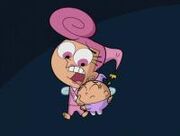 Wanda loves her only son Poof as much she loves her godchild Timmy. Wanda and Poof have a good relationship like a young mother and infant son would have. Poof refers to Wanda as "Mama" and loves her with all his heart. Whenever Cosmo and Wanda get taken away from Poof, he starts to cry and is stopped by Timmy making faces at him. And when Poof is put in danger or missing, she (Wanda) eventually starts to panic.
Gallery
Ad blocker interference detected!
Wikia is a free-to-use site that makes money from advertising. We have a modified experience for viewers using ad blockers

Wikia is not accessible if you've made further modifications. Remove the custom ad blocker rule(s) and the page will load as expected.