Turbo Thunder
Comments

3
5,324pages on
this wiki
Turbo Thunder


Gender:
Male
Species:
Meta-Human
Turbo Thunder (real name: Pippy Dinglefitz) is a major character in the Fairly Odd Parents movie Wishology.
Information
Edit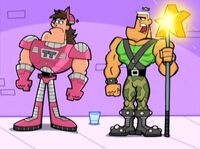 He was formerly the chosen one foretold in legend who would stop The Darkness but his destiny was given to Timmy Turner after he accidentally slept through The Darkness' attack.
Description
Edit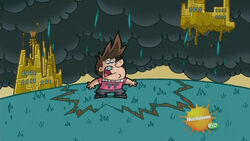 Turbo Thunder is about Jorgen Von Strangle's height. He also bears a strong resemblance to Timmy as they have the same hair color (although Turbo Thunder's is much longer and slightly darker), eye color, similar front teeth and pink color on their outfits. He has the same body shape as his father and his hairstyle is similar to that of his mother.
Background
Edit
Turbo Thunder lived with his parents happily on their home planet, Wonder World until The Darkness attacked. It swallowed everything and everyone there except for him.