Trilly the trust gigglepie
Comments

3
5,346pages on
this wiki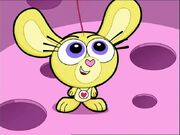 Trilly the Trust Gigglepie
was a bunny like the rest of the
Gigglepies
. She helped
Cosmo
,
Wanda
, and
Timmy
save the planet by helping them find
Overlord Glee
Trilly was a girl, unlike Overlord Glee. Trilly was very nice and cute, not mean like Overlord Glee. She told them all about the gigglepies . Cosmo and Wanda loved Trilly the trust gigglepie. That was their favorite gigglepie. Trilly is very friendly and trust wothy, unlike the other gigglepies. Overlord Glee probably did not like her because she was not evil. Trilly was not a villian! Trilly did hypnotize Cosmo and Wanda and thought everything was fine when the other Gigglepies crowded and tickled Timmy. Timmy gets bored of cute really fast. Even though Trilly was not evil, she was still a Gigglepie bunny and Timmy did not trust her. Fortunately, Trilly was the only one who was not eaten and showed up in a new box of Invader O's. She was Timmy's new pet bunny. The rest of the g igglepies invaded Earth. Timmy was lucky to end up with a good gigglepie. Trilly the trust gigglepie was not shown in regular episodes . She was only shown in Timmy's secret wish.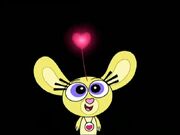 quotes
"Hi, i'm Trilly the Trust gigglepie, I noticed you 3 as you fell from the sky"!
"Stay with me, don't be rediculous, stay here with me and I will show you a magic trickulous"!
"No funny , not I Boo Boo is the funny gigglepie."