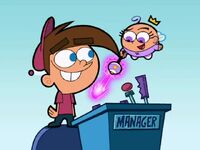 Timmy and Poof is about the major friendship between Timmy Turner and his fairy godbrother Poof. Timmy and Poof both love and care for each other very much and this resulted in them becoming very close friends. They're both irresponsible, as seen in Micecapades when Poof wished Vicky and Timmy to Sleazy and Cheezy respectively after Wanda prohibited them and Cosmo from TV.
Background
After seeing how happy couples were with a baby, Timmy wished Cosmo and Wanda would have one. This resulted in the birth of Baby Poof. Timmy is therefore partly responsible for Poof's existence.
Gallery
Ad blocker interference detected!
Wikia is a free-to-use site that makes money from advertising. We have a modified experience for viewers using ad blockers

Wikia is not accessible if you've made further modifications. Remove the custom ad blocker rule(s) and the page will load as expected.