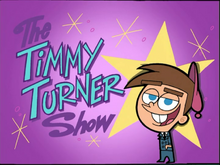 The Timmy Turner Show is a television show broadcast from Timmy's Treehouse. Trying to quickly put together a history report, Timmy Turner wished The Founding Fathers from 1770's America into the present so that he could interview them on this show.
Background
Cosmo and Wanda used their magic to liven up the show. It is a parody of late night television comedy and interview shows, and it even has a band that plays a theme song.
See Also
Ad blocker interference detected!
Wikia is a free-to-use site that makes money from advertising. We have a modified experience for viewers using ad blockers

Wikia is not accessible if you've made further modifications. Remove the custom ad blocker rule(s) and the page will load as expected.