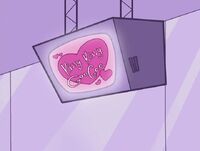 The Kissy Kissy Goo Goo Romance Hour is a soap opera loved by Timmy Turner and other girls, Trixie Tang secretly among them.
Information
Not much about it is known other than it consists of a man named Rodrick, a female unnamed character who apparently "betrays" Rodrick, and two narrators. A main phrase of this show is "Rodrick no". Apparently this show is only "for girls" so Timmy is taunted by his friends for watching it. Trixie even remarks she would go out with any boy who admitted he liked the show. The show was canceled because Rodrick "fell down an elevator shaft" (when what really happened is he upset the producers by asking for a bigger raise).
See also
Ad blocker interference detected!
Wikia is a free-to-use site that makes money from advertising. We have a modified experience for viewers using ad blockers

Wikia is not accessible if you've made further modifications. Remove the custom ad blocker rule(s) and the page will load as expected.