The Fairy Flu!/References
Comments

4
5,587pages on
this wiki
Trivia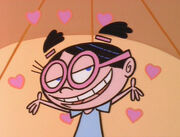 This short marks the debut appearence of Tootie, though here, she was voiced by Amber Hood, rather than Grey DeLisle, In this episode Tootie is already madly in love with Timmy. Tootie's glasses have round frames and she wears different clothing. Her pig-tails are shorter, and her hairline is different. Her pupils are blue instead of black.
This episode's title card is animated, showing a butterfly flying down the street before getting splattered on the windshield of a speeding truck.
First episode where Timmy gets kissed by someone (Tootie, in this case).
The kid that taunts Vicky looks like Billy from The Grim Adventures of Billy and Mandy.
This is the second episode with an animated title card.
In addition to this being the debut episode of Tootie, this is also the first time we see Timmy with other kids which is a fairly rare occurence in the Oh Yeah! Cartoon shorts.
This episode was aired on the same date as the first 3 pilot episodes of SpongeBob SquarePants.
Goofs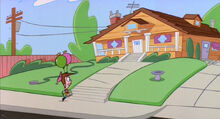 Vicky's House is colored brown and yellow at first before turning green and white.
The clown is ridiculously tall in comparison to the rest of the house in some scenes.
In the very first episode, Vicky mentions she has a brother, but no other member of her family is mentioned or seen besides Tootie.

Most likely the brother was dropped and replaced with Tootie, as this was only referenced in the pilot episode.