Home
Talk

14
5,751pages on
this wiki
Fairly Odd Parents Wiki contains

SPOILERS

relating to

The Fairly OddParents

and its licensed media.
Featured Article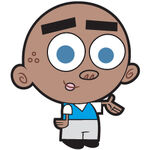 A.J. is one of Timmy Turner's two best friends along with Chester McBadbat. A.J. is smart and rich, but is not very good at social skills and as a result he is considered an unpopular kid like his two friends. A.J. is considered a super genius by his friends. He is the only student that seems to ever pass tests in Mr. Crocker's class. He usually wins the school science fair as well, even when up against Timmy and his fairies, because fairies cannot help win competitions. A.J.'s family is very wealthy and they live in a big house, which is located near Chester's trailer park. Although A.J. doesn't have a girlfriend, he did once have a friendly exchange with Trixie Tang when he offered her a dead frog and she found it "neat", although Chester dragged him off before he could make anything of it. Another time when Trixie was getting angry that Timmy was ignoring her ignoring him, A.J. said that Trixie could ignore him all she wanted. He usually scoffs at Timmy's own attempts to woo Trixie Tang, but possibly has a crush on her himself, in the episode Emotion Commotion he wanted to be "the best-friend of Timmy's she gets with to get back at him" but she goes with Chester instead. Francis bullies A.J. much like the other smaller kids, but A.J. sometimes uses his inventions to defend himself. He is bald dark skinned, possibly African-American, and wears a blue sweater vest which Timmy describes as a "chick magnet", over a white shirt, and he has gray pants with black shoes. His pupils are colored blue. A.J. is around the same height as Chester and Timmy.
See the full article by clicking here.


Recently Featured: Chindred Spirits ♦ Fairly OddPet ♦ FOP Movie ♦ Frenemy Mine ♦ Christmas Everyday! ♦ Kung Timmy ♦ more...
Song of the Month
Gimme the Wand
Gimme the Wand is a musical number sung by Norm the Genie and Cosmo in the episode Fairy Idol.

Lyrics
Norm the Genie:
I'm a swinging G-E-N-I-E
Huh? Hey
Let me tell you
what that spells to me
When I'm shoved in a lamp,
It's cold and damp, man!
My wishing power stops at 3
And that's pretty dang annoying to me

I want that crazy power you fairies got
To grant those wishes that you grant a lot
Hey!
To give each and every child a great big smile
To me this means a lot, it ain't no evil plot

[Chorus]

Gimme the wand, and you'll all see
Gimme the wand, your fairy, I'd be
Gimme the wand, a-da-do-da-dee
I'll make you a natural blonde,
if you give me the wand
(Shoo-doop-shoo-be-do-wah)

(snake charmer music playing)

Cosmo:
I'm a... oh hang on,
F-A-I-R-Y
We did our very best
for this buck toothed guy
(Shoop-bah-doo-bap-Dooby-doo-wah!)
That vest-wearing slob
He may want our job

Norm:
Well, duh.

Cosmo:
But give us
One more try
You really can't deny

Cosmo and Norm:
Give us the wand, we'll have a ball
(Doot-doot-bap-dooby-doo-zow!)

Norm:
Give me the wand

Wanda:
He'll enslave you all!
(Doot-doot-bap-dooby-doo-zow!)

Cosmo and Norm:
Give us the wand, a-do-doo-dow
(Doot-doot-bap-dooby-doo-zow!)
We really hope, you all respond
Come on, give us the wand
And set me free
(Doot-doot-bap-dooby-doo-zow)
Give us the wand, and hear our plea
(Doot-doot-bap-dooby-doo-zow)
Give us the wand, a-doo-dah-dee
(Doot-doot-bap-dooby-doo-zow)
Don't let yourself be conned

Now give us the wand.
---
Recently Featured: A Million Wishes ♫ Lookin' Like Magic ♫ I Wish It Could Be Christmas Every Day ♫ Floating With You ♫ Icky Vicky
Random Image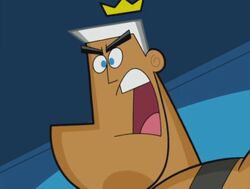 Latest News
Create blog post
Nickelodeon is getting in the holiday spirit with its upcoming movie "A Fairly Odd Christmas"', set to premiere Friday, Nov. 29 at 7/6c, TVGuide.com can reveal exclusively.

The movie follows the latest ad…

Read more >

The final unaired Season 7 episode Farm Pit will be premiering August 5, 2012 at 10:00 AM (Eastern) on Nickelodeon USA!




The episode involes when Mr. Turner has been fired from his job, so he tries to star…


Read more >
See more >
Create blog post
The FOP Wiki wishes a Merry Christmas for all of our editors!

Read more >

If you enjoy editing on the Wiki but doesn't have an account, please register !

Starting Jul 1st, Wikia will be turning anonymous editing off for wikis directed to people 12 years of age or younger, an…

Read more >
See more >
Loading RSS data...
We are also currently building communities in the following languages: