Home
Talk

14
5,709pages on
this wiki
Fairly Odd Parents Wiki contains

SPOILERS

relating to

The Fairly OddParents

and its licensed media.
Featured Article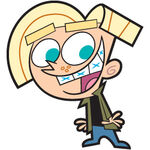 Chester McBadbat is one of Timmy Turner's two best friends along with A.J.. Like Timmy and the rest of his friends, Chester is considered unpopular. As his last name suggests, he and his father Bucky are terrible at baseball. He lives in a trailer park near A.J.'s mansion. Chester and his family are very poor. He is often seen eating out of garbage, or food that had been dropped on the ground. His family is being described as so poor they wash their paper plates in the sink, and Chester's dad is almost always seen sitting on a toilet in plain sight of everyone (there is no bathroom). Chester considers the gruel served in the school cafeteria to be a delicacy. Unlike his friend A.J., Chester hates educational things such as visits to the library. Chester is blond and wears an olive green coat over a black shirt and jeans. He also has braces, although in some episodes its a retainer. The braces sometimes seem to have mechanical devices and things inside them, sometimes telescoping out to several times larger than Chester himself. One time Chester's braces sprung out his mouth and created a playground slide that his classmates started playing on.
See the full article by clicking here.


Recently Featured: Chindred Spirits ♦ Fairly OddPet ♦ FOP Movie ♦ Frenemy Mine ♦ Christmas Everyday! ♦ Kung Timmy ♦ more...
Song of the Month
Gimme the Wand
Gimme the Wand is a musical number sung by Norm the Genie and Cosmo in the episode Fairy Idol.

Lyrics
Norm the Genie:
I'm a swinging G-E-N-I-E
Huh? Hey
Let me tell you
what that spells to me
When I'm shoved in a lamp,
It's cold and damp, man!
My wishing power stops at 3
And that's pretty dang annoying to me

I want that crazy power you fairies got
To grant those wishes that you grant a lot
Hey!
To give each and every child a great big smile
To me this means a lot, it ain't no evil plot

[Chorus]

Gimme the wand, and you'll all see
Gimme the wand, your fairy, I'd be
Gimme the wand, a-da-do-da-dee
I'll make you a natural blonde,
if you give me the wand
(Shoo-doop-shoo-be-do-wah)

(snake charmer music playing)

Cosmo:
I'm a... oh hang on,
F-A-I-R-Y
We did our very best
for this buck toothed guy
(Shoop-bah-doo-bap-Dooby-doo-wah!)
That vest-wearing slob
He may want our job

Norm:
Well, duh.

Cosmo:
But give us
One more try
You really can't deny

Cosmo and Norm:
Give us the wand, we'll have a ball
(Doot-doot-bap-dooby-doo-zow!)

Norm:
Give me the wand

Wanda:
He'll enslave you all!
(Doot-doot-bap-dooby-doo-zow!)

Cosmo and Norm:
Give us the wand, a-do-doo-dow
(Doot-doot-bap-dooby-doo-zow!)
We really hope, you all respond
Come on, give us the wand
And set me free
(Doot-doot-bap-dooby-doo-zow)
Give us the wand, and hear our plea
(Doot-doot-bap-dooby-doo-zow)
Give us the wand, a-doo-dah-dee
(Doot-doot-bap-dooby-doo-zow)
Don't let yourself be conned

Now give us the wand.
---
Recently Featured: A Million Wishes ♫ Lookin' Like Magic ♫ I Wish It Could Be Christmas Every Day ♫ Floating With You ♫ Icky Vicky
Random Image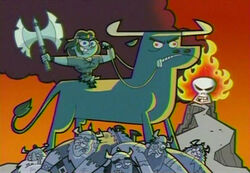 Latest News
Create blog post
Nickelodeon is getting in the holiday spirit with its upcoming movie "A Fairly Odd Christmas"', set to premiere Friday, Nov. 29 at 7/6c, TVGuide.com can reveal exclusively.

The movie follows the latest ad…

Read more >

The final unaired Season 7 episode Farm Pit will be premiering August 5, 2012 at 10:00 AM (Eastern) on Nickelodeon USA!




The episode involes when Mr. Turner has been fired from his job, so he tries to star…


Read more >
See more >
Create blog post
The FOP Wiki wishes a Merry Christmas for all of our editors!

Read more >

If you enjoy editing on the Wiki but doesn't have an account, please register !

Starting Jul 1st, Wikia will be turning anonymous editing off for wikis directed to people 12 years of age or younger, an…

Read more >
See more >
Loading RSS data...
We are also currently building communities in the following languages: