Fairly Odd Parents Wiki contains

SPOILERS

relating to

The Fairly OddParents

and its licensed media.
"
If Chip doesn't show up, I'm going to punish our son for no reason!
"
Featured Article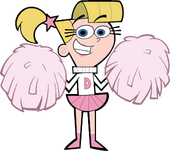 Veronica is a girl at Timmy Turner's school who is described as "less popular than Trixie Tang". Veronica seems to have incredibly bad luck! In every episode, she's either humiliated, put in pain, or snubbed. Although she is a popular kid, Trixie and the others still treat her as an inferior. Even Timmy doesn't seem to have much respect or sympathy for her. There are times where she wishes she was Trixie. She is also secretly in love with Timmy, as seen when Timmy was reading her mind. In the half hour special "Information Stupor Highway", she states that her love for Timmy burns with the white hot intensity of a thousand suns. Ironically, Timmy uses this same line, referring to Trixie, earlier in the episode. In the episode The Boy Who Would Be Queen, she felt actual physical pain when Trixie ripped a picture of her in half. Veronica is blond haired with her hair held back in a ponytail. She usually wears a cheerleader outfit with a pink skirt and white shirt. She once wore an identical outfit made entire out of tissue paper, sugar and powdered milk, and when she was pushed in a fountain it was revealed that she wears purple frilly panties. She is taller than the other students in her class, and is around the same height as Trixie. She usually speaks like a valley girl, and when in public she holds nothing but contempt for Timmy and his friends. However, it has been hinted several times that she may actually have a crush on Timmy.
See the full article by clicking here.


Recently Featured: Chindred Spirits ♦ Fairly OddPet ♦ FOP Movie ♦ Frenemy Mine ♦ Christmas Everyday! ♦ Kung Timmy ♦ more...
Song of the Month
Gimme the Wand
Gimme the Wand is a musical number sung by Norm the Genie and Cosmo in the episode Fairy Idol.

Lyrics
Norm the Genie:
I'm a swinging G-E-N-I-E
Huh? Hey
Let me tell you
what that spells to me
When I'm shoved in a lamp,
It's cold and damp, man!
My wishing power stops at 3
And that's pretty dang annoying to me

I want that crazy power you fairies got
To grant those wishes that you grant a lot
Hey!
To give each and every child a great big smile
To me this means a lot, it ain't no evil plot

[Chorus]

Gimme the wand, and you'll all see
Gimme the wand, your fairy, I'd be
Gimme the wand, a-da-do-da-dee
I'll make you a natural blonde,
if you give me the wand
(Shoo-doop-shoo-be-do-wah)

(snake charmer music playing)

Cosmo:
I'm a... oh hang on,
F-A-I-R-Y
We did our very best
for this buck toothed guy
(Shoop-bah-doo-bap-Dooby-doo-wah!)
That vest-wearing slob
He may want our job

Norm:
Well, duh.

Cosmo:
But give us
One more try
You really can't deny

Cosmo and Norm:
Give us the wand, we'll have a ball
(Doot-doot-bap-dooby-doo-zow!)

Norm:
Give me the wand

Wanda:
He'll enslave you all!
(Doot-doot-bap-dooby-doo-zow!)

Cosmo and Norm:
Give us the wand, a-do-doo-dow
(Doot-doot-bap-dooby-doo-zow!)
We really hope, you all respond
Come on, give us the wand
And set me free
(Doot-doot-bap-dooby-doo-zow)
Give us the wand, and hear our plea
(Doot-doot-bap-dooby-doo-zow)
Give us the wand, a-doo-dah-dee
(Doot-doot-bap-dooby-doo-zow)
Don't let yourself be conned

Now give us the wand.
---
Recently Featured: A Million Wishes ♫ Lookin' Like Magic ♫ I Wish It Could Be Christmas Every Day ♫ Floating With You ♫ Icky Vicky
Random Image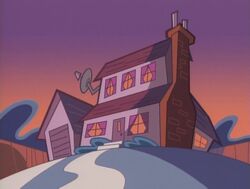 Latest News
Create blog post
Nickelodeon has scheduled lots of new episodes of "The Fairly OddParents" this Summer. There'll be four weeks of new episodes, leading up to the premiere of the all new live-action movie "A Fairly Odd S…

Read more >

Nickelodeon is getting in the holiday spirit with its upcoming movie "A Fairly Odd Christmas"', set to premiere Friday, Nov. 29 at 7/6c, TVGuide.com can reveal exclusively.

The movie follows the latest ad…

Read more >
See more >
Create blog post
Hello, Odd people!

It's beginning to look a lot like Christmas, so we have changed our Wiki for the occasion. We have new background, colors and special decoration in the home page. Don't forget to ta…

Read more >

Hello, Odd people!

I've recently updated this Wiki's mainpage, and one of the changes was to add a Poll to it. Our first poll had the question "Which of these characters do you wish would appear in the…

Read more >
See more >

Loading RSS data...
We are also currently building communities in the following languages: