Fairly Odd Parents Wiki contains

SPOILERS

relating to

The Fairly OddParents

and its licensed media.
"
Trixie, there's something I always wanted to say to you... [
goes under You-Doo spell
]
I love
Tootie
!
She's smart, she's funny, and she is so much prettier than anyone! Especially that icky yucky Trixie!
"
Featured Article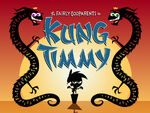 Kung Timmy is the twenty-second episode of Season 3. Francis is beating up Timmy Turner in front of the entire school, when Tootie shows up to defend him. This only humiliates Timmy further when Francis points out that he needs a little girl to fight his battles for him. It only gets worse when neither Tootie nor Timmy's own father can stop Francis, and soon the Turners are bullied out of their car, possessions, and even their home. Timmy's Dad attempts to help him learn Kung-Fu, but the book of Kung-Fu laws states it can only be used for defense, and prevents Timmy from using it to get revenge on Francis, even with the help of his fairy godparents. Only when Francis threatens to beat up Tootie instead does Timmy stand a fighting chance against Francis, by using the laws of Kung-Fu to defend the only person who believed in him, beat up Francis, and earn his family's home back.
See the full article by clicking here.


Recently Featured: Chindred Spirits ♦ Fairly OddPet ♦ FOP Movie ♦ Frenemy Mine ♦ Christmas Everyday! ♦ Kung Timmy ♦ more...
Song of the Month
Gimme the Wand
Gimme the Wand is a musical number sung by Norm the Genie and Cosmo in the episode Fairy Idol.

Lyrics
Norm the Genie:
I'm a swinging G-E-N-I-E
Huh? Hey
Let me tell you
what that spells to me
When I'm shoved in a lamp,
It's cold and damp, man!
My wishing power stops at 3
And that's pretty dang annoying to me

I want that crazy power you fairies got
To grant those wishes that you grant a lot
Hey!
To give each and every child a great big smile
To me this means a lot, it ain't no evil plot

[Chorus]

Gimme the wand, and you'll all see
Gimme the wand, your fairy, I'd be
Gimme the wand, a-da-do-da-dee
I'll make you a natural blonde,
if you give me the wand
(Shoo-doop-shoo-be-do-wah)

(snake charmer music playing)

Cosmo:
I'm a... oh hang on,
F-A-I-R-Y
We did our very best
for this buck toothed guy
(Shoop-bah-doo-bap-Dooby-doo-wah!)
That vest-wearing slob
He may want our job

Norm:
Well, duh.

Cosmo:
But give us
One more try
You really can't deny

Cosmo and Norm:
Give us the wand, we'll have a ball
(Doot-doot-bap-dooby-doo-zow!)

Norm:
Give me the wand

Wanda:
He'll enslave you all!
(Doot-doot-bap-dooby-doo-zow!)

Cosmo and Norm:
Give us the wand, a-do-doo-dow
(Doot-doot-bap-dooby-doo-zow!)
We really hope, you all respond
Come on, give us the wand
And set me free
(Doot-doot-bap-dooby-doo-zow)
Give us the wand, and hear our plea
(Doot-doot-bap-dooby-doo-zow)
Give us the wand, a-doo-dah-dee
(Doot-doot-bap-dooby-doo-zow)
Don't let yourself be conned

Now give us the wand.
---
Recently Featured: A Million Wishes ♫ Lookin' Like Magic ♫ I Wish It Could Be Christmas Every Day ♫ Floating With You ♫ Icky Vicky
Random Image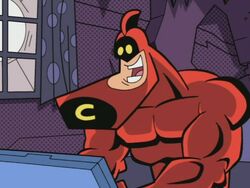 Latest News
Create blog post
Nickelodeon has scheduled new episodes for the new season of "The Fairly OddParents" this winter.

Here's a full list of every episode coming this winter:

-Friday 1/15 @ 7:30 p.m. "The Big Fairy Share S…

Read more >

Nickelodeon has scheduled lots of new episodes of "The Fairly OddParents" this Summer. There'll be four weeks of new episodes, leading up to the premiere of the all new live-action movie "A Fairly Odd S…

Read more >
See more >
Create blog post
Hello, Odd people!

It's beginning to look a lot like Christmas, so we have changed our Wiki for the occasion. We have new background, colors and special decoration in the home page. Don't forget to ta…

Read more >

Hello, Odd people!

I've recently updated this Wiki's mainpage, and one of the changes was to add a Poll to it. Our first poll had the question "Which of these characters do you wish would appear in the…

Read more >
See more >

Loading RSS data...
We are also currently building communities in the following languages: