What's New

More Wishes to Come!


New episodes. New girl in town? Season 10 of
The Fairly OddParents is coming soon to Nickelodeon!
| | | | | |
| --- | --- | --- | --- | --- |
| Episodes | Cast & Crew | Songs | Merchandise | Forum |
Featured Article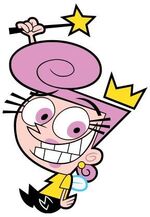 Wanda Venus Fairywinkle-Cosma is a main character in the series, who is one of Timmy Turner's fairy godparents, alongside her husband Cosmo. Bright and compassionate, Wanda loves her current godchild Timmy just like her new son, Poof, and husband Cosmo. She is also the most responsible out of the bunch. In "Fairly Odd Baby", it is revealed that Cosmo was the last baby born in Fairy World (before Poof), implying that Wanda is slightly older than him. She is often blamed for the misadventures that she and her family get themselves into by Jorgen von Strangle, who states she should take care to watch them better because of Cosmo's dangerous stupidity. She always loses to Cosmo when it comes to second guessing what Timmy wants to do, usually because Timmy wants to do something fun or destructive ("Funstructive"). She was apparently very popular in high school. She has pink hair and pink eyes. Her hair has always been shown to have its distinctive swirly front, although when she was younger she also had a pony tail in the back. She is the most intelligent of the group, since Cosmo is an idiot and Timmy can fall into immature decisions. Often times her cautious and worrisome attitude results in her being perceived as a "nag" by Timmy and Cosmo, and they often tease her because of this.
See the full article by clicking here.


Recently Featured: Chindred Spirits ♦ Fairly OddPet ♦ FOP Movie ♦ Frenemy Mine ♦ Christmas Everyday! ♦ Kung Timmy ♦ more...
Headlines
Create blog post
Nickelodeon has scheduled lots of new episodes of "The Fairly OddParents" this Summer. There'll be four weeks of new episodes, leading up to the premiere of the all new live-action movie "A Fairly Odd Summer".

Here's a full list of every episode coming this Summer:

- Monday, 7/7 @ 3:00 p.m.
"Cosmonopoly/ H…


Read more >

Nickelodeon is getting in the holiday spirit with its upcoming movie "A Fairly Odd Christmas"', set to premiere Friday, Nov. 29 at 7/6c, TVGuide.com can reveal exclusively.

The movie follows the latest adventures of Timmy Turner (Drake Bell) and his childhood friend Tootie (Daniella Monet), who travel a…

Read more >
See more >
Create blog post
Hello, Odd people!

It's beginning to look a lot like Christmas, so we have changed our Wiki for the occasion. We have new background, colors and special decoration in the home page. Don't forget to ta…

Read more >

Hello, Odd people!

I've recently updated this Wiki's mainpage, and one of the changes was to add a Poll to it. Our first poll had the question "Which of these characters do you wish would appear in the…

Read more >
See more >
"
Because, my little artichoke, I'm 16 and you're 10. DO THE MATH!!!!
"
Random Image
Poll
Which Christmas-themed episode is your favorite?
We are also currently building communities in the following languages: