Home
Talk

14
6,264pages on
this wiki
What's New

Happy New Year!
| | | | | |
| --- | --- | --- | --- | --- |
| Episodes | Cast & Crew | Songs | Merchandise | Forum |
Featured Article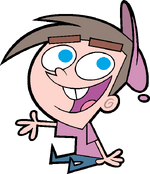 Timothy Tiberius Turner, or simply Timmy Turner, was born on March 21, the same day as his celebrity friend, Chip Skylark. He is age 10, although he has had many birthdays over the course of the series. Timmy's parents used to pay very much attention to him, but when they told a lie, Timmy called Vicky to be his babysitter, and she remained it as he grew up. But then Timmy received two fairy godparents, Cosmo and Wanda who granted his every wish throughout his childhood, sometimes sending Vicky into a comical rage. Timmy is defined as proud and arrogant but yet he is scrawny and weak but makes up for it by being extremely witty and clever. He can be lazy and selfish, but is truly brave and heroic proving to be rather caring and loving. Unlike his friends, Chester and A.J., who are quite comfortable with being unpopular, Timmy desperately tries being cool in high hopes that he will win Trixie Tang over and be accepted as one of the popular kids. Timmy is also stalked by Vicky's little sister, Tootie, who is deeply infatuated with Timmy, although he does not openly return this affection. In Wishology, Timmy was revealed to be "The Chosen One" by a fairy prophecy.
See the full article by clicking here.


Recently Featured: Chindred Spirits ♦ Fairly OddPet ♦ FOP Movie ♦ Frenemy Mine ♦ Christmas Everyday! ♦ Kung Timmy ♦ more...
Headlines
Create blog post
Nickelodeon has scheduled lots of new episodes of "The Fairly OddParents" this Summer. There'll be four weeks of new episodes, leading up to the premiere of the all new live-action movie "A Fairly Odd Summer".

Here's a full list of every episode coming this Summer:

- Monday, 7/7 @ 3:00 p.m.
"Cosmonopoly/ H…


Read more >

Nickelodeon is getting in the holiday spirit with its upcoming movie "A Fairly Odd Christmas"', set to premiere Friday, Nov. 29 at 7/6c, TVGuide.com can reveal exclusively.

The movie follows the latest adventures of Timmy Turner (Drake Bell) and his childhood friend Tootie (Daniella Monet), who travel a…

Read more >
See more >
Create blog post
Hello, Odd people!

It's beginning to look a lot like Christmas, so we have changed our Wiki for the occasion. We have new background, colors and special decoration in the home page. Don't forget to ta…

Read more >

Hello, Odd people!

I've recently updated this Wiki's mainpage, and one of the changes was to add a Poll to it. Our first poll had the question "Which of these characters do you wish would appear in the…

Read more >
See more >
"
Good evening, everyone. We're your perfectly normal not-magic-fairy human waiters with unbelievably super-hairy legs and underarms!
"
Random Image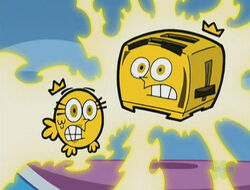 Poll
Which Christmas-themed episode is your favorite?
We are also currently building communities in the following languages: