Adam West Dies at 88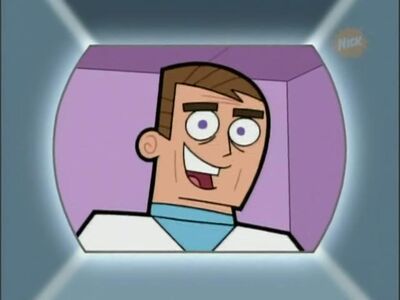 "Miss Dimmsdale"
"Adam West, star of the popular 1960's Batman show, starred as himself as well as alter-ego, Catman, starting with episode back in Season 4. "
Premiere date: January 31, 2003

(click image for more information)
| | | | | |
| --- | --- | --- | --- | --- |
| Episodes | Cast & Crew | Songs | Merchandise | Forum |
Featured Article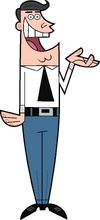 Mr. Turner is Timmy's father, who usually acts as the second most dumb character on the show, only beaten by Cosmo. Timmy's parents are a little off (literally), off to dinner, off to the movies, off who knows where, leaving Timmy at the mercy of his nefarious babysitter, Vicky. Mr. Turner is a tall man wearing office shirts and pants with a tie and a belt. He works with Mr. Dinkleberg in an office as what he simply calls a pencil pusher. When he was a kid, the other kids used to call him Dad. He fell in love with Mom when they were kids and he fell in love with her again at Dimmsdale University in the 1980's. He used to study at Dimmsdale Elementary School when he was a kid, and in the 1980's he worked as a janitor in Dimmsdale University. Ten years later, mom was already pregnant to Timmy and just moved to their new house. Mr. Turner is often shown to be a rather weak and cowardly man. Which isn't helped by his high-pitched and girly screech.
See the full article by clicking here.


Recently Featured: Chindred Spirits ♦ Fairly OddPet ♦ FOP Movie ♦ Frenemy Mine ♦ Christmas Everyday! ♦ Kung Timmy ♦ more...
Headlines
Create blog post
Nickelodeon has scheduled new episodes for the new season of "The Fairly OddParents" this winter.

Here's a full list of every episode coming this winter:

-Friday 1/15 @ 7:30 p.m. "The Big Fairy Share Scare" Due to a loophole in the rules, Timmy must now share his fairies with a little girl named Chloe …

Read more >

Nickelodeon has scheduled lots of new episodes of "The Fairly OddParents" this Summer. There'll be four weeks of new episodes, leading up to the premiere of the all new live-action movie "A Fairly Odd Summer".

Here's a full list of every episode coming this Summer:

- Monday, 7/7 @ 3:00 p.m.
"Cosmonopoly/ H…


Read more >
See more >
Create blog post
Adam West, was an American Actor who played Batman in the hit 60's television series.

In Fairly Oddparents, he played himself, as well as his alter-ego, Catman, from Miss Dimmsdale up until 9 Lives!. …

Read more >

Hello, Odd people!

It's beginning to look a lot like Christmas, so we have changed our Wiki for the occasion. We have new background, colors and special decoration in the home page. Don't forget to ta…

Read more >
See more >
"What have I done? Instead of creating nonstop fun time, I've erased time altogether! There's no more dinnertime or lunchtime or breakfast time - not even snack time! Everybody will starve! With no bedtime, nobody will be able to sleep! Without down time, I'll never be able to sit and pointlessly stare at nothing for hours on end! And without TV time, I can't watch America's Funniest Dental Exams - despite the fact that it's educational! Cosmo! Wanda! Hel-l-l-l-lp!'"
—Timmy Turner
Random Image
Poll
What is your favourite Catman/Adam West episode when he was voiced by Adam West?
We are also currently building communities in the following languages:
Ad blocker interference detected!
Wikia is a free-to-use site that makes money from advertising. We have a modified experience for viewers using ad blockers

Wikia is not accessible if you've made further modifications. Remove the custom ad blocker rule(s) and the page will load as expected.