15th Anniversary
"The Big Problem!"
The Fairly Oddparents Celebrated 15 Years on the Air in March with it's first episode, The Big Problem.
The show first premiered March 30th, 2001
| | | | | |
| --- | --- | --- | --- | --- |
| Episodes | Cast & Crew | Songs | Merchandise | Forum |
Featured Article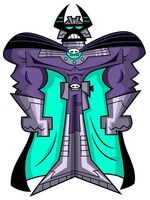 Dark Laser is a toy from a catalog that Timmy brought to life with his magic copier in "Hard Copy". He is a parody of Darth Vader. Dark Laser was originally just a toy, the leader of a series of toys modeled after the Empire from Star Wars, with Dark Laser himself being a parody of Darth Vader. When Timmy's magic copy machine brought Dark Laser to life, he quickly set off to cause destruction in Dimmsdale. After being defeated by Timmy, Dark Laser swore revenge, and has resided in space actively trying to trick Timmy Turner and lure the boy to him so that he can destroy him. It is not clear if Dark Laser is an alien, a toy, or a robot, though he considers his attacks on Earth as an "invasion", though the latter seems most likely as he has an army of space robots at his command, and wants to dominate Earth once Timmy Turner is out of the way. Dark Laser wears a black space suit and helmet, and speaks in a deep voice, reminiscent of the real Darth Vader. Dark Laser also has a variety of buttons on his suit which can transform him into different objects, such as a life raft, hinting that he may also be a giant living toy. Timmy and Tootie use the threat of pressing these buttons on Dark Laser's suit against him.
See the full article by clicking here.

Recently Featured: Chindred Spirits ♦ Fairly OddPet ♦ FOP Movie ♦ Frenemy Mine ♦ Christmas Everyday! ♦ Kung Timmy ♦ more...
Headlines
Create blog post
Nickelodeon has scheduled new episodes for the new season of "The Fairly OddParents" this winter.

Here's a full list of every episode coming this winter:

-Friday 1/15 @ 7:30 p.m. "The Big Fairy Share Scare" Due to a loophole in the rules, Timmy must now share his fairies with a little girl named Chloe …

Read more >

Nickelodeon has scheduled lots of new episodes of "The Fairly OddParents" this Summer. There'll be four weeks of new episodes, leading up to the premiere of the all new live-action movie "A Fairly Odd Summer".

Here's a full list of every episode coming this Summer:

- Monday, 7/7 @ 3:00 p.m.
"Cosmonopoly/ H…


Read more >
See more >
Create blog post
Hello, Odd people!

It's beginning to look a lot like Christmas, so we have changed our Wiki for the occasion. We have new background, colors and special decoration in the home page. Don't forget to ta…

Read more >

Hello, Odd people!

I've recently updated this Wiki's mainpage, and one of the changes was to add a Poll to it. Our first poll had the question "Which of these characters do you wish would appear in the…

Read more >
See more >
"You're here? In my house? My Timmy-tracker must be malfunctioning."
—Tootie
Random Image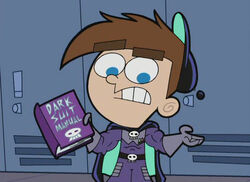 Poll
Which upcoming episode are you more excited for?