Home
Talk

14
5,363pages on
this wiki

"
Dude, boys like comic books; girls like dolls. Boys like video games; girls like makeup. We're different! That's why we have different bathrooms!
"
Featured Article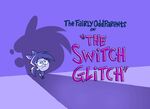 "The Switch Glitch" is the fourteenth episode of Season 2. After Timmy Turner's parents break a promise and leave him with Vicky, only for her to torment him again, Timmy wishes that he was the babysitter and Vicky was the child in order to get revenge. Vicky is turned into a five year old child, and Timmy forces her to do pointless chores while bullying her, but his harsh treatment of Vicky results in Cosmo and Wanda being transferred to Vicky, who uses them to get revenge on Timmy. Now Timmy must find a way to make Vicky happy and less miserable again, or else he could lose his godparents forever.
See the full article by clicking here.


Recently Featured: Fairly OddPet ♦ FOP Movie ♦ Frenemy Mine ♦ Christmas Everyday! ♦ Kung Timmy ♦ Remy Buxaplenty ♦ more...
Song of the Month
A Million Wishes
A Million Wishes is a song featured in the episode "Timmy's Secret Wish!".It is performed by Timmy, Cosmo and Wanda, celebrating Timmy's one millionth wish.

Lyrics
Wanda: Since you were a youngster you had a crumy life
Cosmo: An evil baby sitter who chased you with a knife
Wanda: Your parents they would feed you but wouldn't play at all
Wanda and Cosmo: Till two little goldfish came and changed it all!

Wanda and Cosmo: A million wishes never done before
A million wishes
Timmy: Like a magic candy store

Timmy: Mountains of pudding
Wanda: A pizza castle,
Cosmo: Copies of your dad
(Hi Timmy!!)

Cosmo: You went to other planets,
Deep inside the earth,
Wanda: Played with superheros,
Wished for Cosmo to give birth (Poof Poof!)
Cosmo: You made a booger monster fifty stories tall
Wanda and Cosmo: If it could be wished for you wished for it all.

Wanda and Cosmo: A million wishes, a magic tidal wave
Wanda and Cosmo: A million wishes
Cosmo: I have no time to shave

Timmy: Comics, cookies and rocket roller skates
The first kid President of the Untied States

Getting stuff was awesome, nothing could compare
A multi-colored dinosaur, and super stretchy hair
The best part of the journey, the thing that was the ball.
All: Was my new best friends who loved me most of all!

---
Recently Featured: Lookin' Like Magic ♫ I Wish It Could Be Christmas Every Day ♫ Floating With You ♫ Icky Vicky
Random Image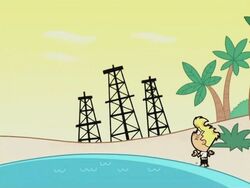 Headlines
Loading RSS data...
( Refresh | More news... )

Create blog post
Nickelodeon is getting in the holiday spirit with its upcoming movie "A Fairly Odd Christmas"', set to premiere Friday, Nov. 29 at 7/6c, TVGuide.com can reveal exclusively.

The movie follows the latest adventures of Timmy Turner (Drake Bell) and his childhood friend Tootie (Daniella Monet), who travel a…

Read more >

The final unaired Season 7 episode Farm Pit will be premiering August 5, 2012 at 10:00 AM (Eastern) on Nickelodeon USA!




The episode involes when Mr. Turner has been fired from his job, so he tries to start up a farm instead. Unfortunately, he has no luck at growing anything, so Timmy wishes his father's…


Read more >
See more >
Create blog post
Hey Fairly Odd people!
Wikia is organizing a competition called Time to Play. It's a way Wikia found to honor and promote the best article of which Wiki. You can learn more about "Time to Play", here.
…



Read more >


First, as many of you have learned, The Fairly OddParents is coming back for another season. This includes a live action Christmas movie and an unspecified amount of episodes. I've been absent a lot…


Read more >
See more >
We are also currently building communities in the following languages: