Home
Talk

14
6,135pages on
this wiki
Happy Halloween

Timmy
Cosmo
Wanda
Poof
The Pumpkinator
Meet More Characters
What's New

A Fairly Odd Summer


The gang heads to Hawaii for vacation, but Timmy ends up putting the whole Fairy World in danger. Now, he must defeat Crocker and Foop in a magical adventure that may change his future forever. The newest "Fairly Odd" movie has just premiered. Click in the title to know more.
| | | | | |
| --- | --- | --- | --- | --- |
| Episodes | Cast & Crew | Songs | Merchandise | Forum |
Featured Article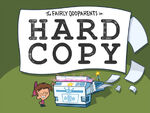 Hard Copy is the second episode of Season 4. While Cosmo and Wanda have to go to the doctor, Wanda grants Timmy a magic copier machine with the ability to grant him whatever he wants by scanning it. Problems arise when Timmy makes an action figure of Dark Laser (a parody of Darth Vader from Star Wars) and opts to press the life-size button over the normal-size button, which causes Dark Laser to become real and use the copier machine to wish up an armada of robot alien invaders, as well as a ship so powerful it can stop Wanda's magic. Cosmo is sidelined when Dr. Rip Studwell reveals that he suffers from a terrible disease: stupidity, and must be put through a number of humiliating and painful tests to be cured. Timmy must fight Dark Laser himself, using the copier machine and the toy magazine to wish up his own spaceship and, with Wanda resupplying him with wishes, goes off to fight Dark Laser head on above the streets of Dimmsdale.
See the full article by clicking here.

Recently Featured: Chindred Spirits ♦ Fairly OddPet ♦ FOP Movie ♦ Frenemy Mine ♦ Christmas Everyday! ♦ Kung Timmy ♦ more...
Headlines
Create blog post
Nickelodeon has scheduled lots of new episodes of "The Fairly OddParents" this Summer. There'll be four weeks of new episodes, leading up to the premiere of the all new live-action movie "A Fairly Odd Summer".

Here's a full list of every episode coming this Summer:

- Monday, 7/7 @ 3:00 p.m.
"Cosmonopoly/ H…


Read more >

Nickelodeon is getting in the holiday spirit with its upcoming movie "A Fairly Odd Christmas"', set to premiere Friday, Nov. 29 at 7/6c, TVGuide.com can reveal exclusively.

The movie follows the latest adventures of Timmy Turner (Drake Bell) and his childhood friend Tootie (Daniella Monet), who travel a…

Read more >
See more >
Create blog post
Hello, Odd people!

I've recently updated this Wiki's mainpage, and one of the changes was to add a Poll to it. Our first poll had the question "Which of these characters do you wish would appear in the…

Read more >

Hey
I decided to make some changes to the mainpage, since I realized we use the same design since...well, a long time.

So, I hope you guys like the new style. Give us feedback in the comments below, an…


Read more >
See more >
"
You know, despite the pain involved in playing Timmy Ball, I find it gratifying to see everyone in the neighborhood enjoying themselves as much as we are.
"
Random Image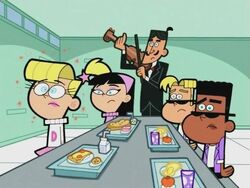 Poll
How much did you enjoy 'A Fairly Odd Summer'?
We are also currently building communities in the following languages: