What's New

More Wishes to Come!


New episodes. New girl in town? Season 10 of
The Fairly OddParents is coming soon to Nickelodeon!
| | | | | |
| --- | --- | --- | --- | --- |
| Episodes | Cast & Crew | Songs | Merchandise | Forum |
Featured Article
Chester McBadbat is one of Timmy Turner's two best friends along with A.J.. Like Timmy and the rest of his friends, Chester is considered unpopular. As his last name suggests, he and his father Bucky are terrible at baseball. He lives in a trailer park near A.J.'s mansion. Chester and his family are very poor. He is often seen eating out of garbage, or food that had been dropped on the ground. His family is being described as so poor they wash their paper plates in the sink, and Chester's dad is almost always seen sitting on a toilet in plain sight of everyone (there is no bathroom). Chester considers the gruel served in the school cafeteria to be a delicacy. Unlike his friend A.J., Chester hates educational things such as visits to the library. Chester is blond and wears an olive green coat over a black shirt and jeans. He also has braces, although in some episodes its a retainer. The braces sometimes seem to have mechanical devices and things inside them, sometimes telescoping out to several times larger than Chester himself. One time Chester's braces sprung out his mouth and created a playground slide that his classmates started playing on.
See the full article by clicking here.


Recently Featured: Chindred Spirits ♦ Fairly OddPet ♦ FOP Movie ♦ Frenemy Mine ♦ Christmas Everyday! ♦ Kung Timmy ♦ more...
Headlines
Create blog post
Nickelodeon has scheduled lots of new episodes of "The Fairly OddParents" this Summer. There'll be four weeks of new episodes, leading up to the premiere of the all new live-action movie "A Fairly Odd Summer".

Here's a full list of every episode coming this Summer:

- Monday, 7/7 @ 3:00 p.m.
"Cosmonopoly/ H…


Read more >

Nickelodeon is getting in the holiday spirit with its upcoming movie "A Fairly Odd Christmas"', set to premiere Friday, Nov. 29 at 7/6c, TVGuide.com can reveal exclusively.

The movie follows the latest adventures of Timmy Turner (Drake Bell) and his childhood friend Tootie (Daniella Monet), who travel a…

Read more >
See more >
Create blog post
Hello, Odd people!

It's beginning to look a lot like Christmas, so we have changed our Wiki for the occasion. We have new background, colors and special decoration in the home page. Don't forget to ta…

Read more >

Hello, Odd people!

I've recently updated this Wiki's mainpage, and one of the changes was to add a Poll to it. Our first poll had the question "Which of these characters do you wish would appear in the…

Read more >
See more >
"
That's it, young man! You know you're not supposed to make your dad scream like a girl three times in one day! When he wakes up, you're in a lot of trouble!
"
Random Image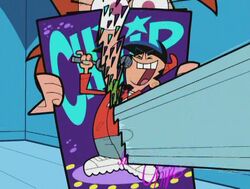 Poll
Which Christmas-themed episode is your favorite?
We are also currently building communities in the following languages: