Home
Talk

14
5,587pages on
this wiki

"
You're here? In my house? My Timmy-tracker must be malfunctioning.
"
Featured Article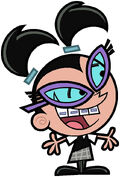 Tootie is the younger sister of Vicky, she is a geeky girl with a crush on Timmy Turner. Vicky tortures Tootie whenever she's not babysitting, meaning that she is twice as miserable as Timmy, but she does not have her own Fairy Godparents. Tootie harbors an obsessive crush on Timmy to the point where her room is a shrine of pictures of him and other related merchandise. Often she is shown to be crafty and knowledgeable, inventing numerous devices to eavesdrop on Timmy, while other episodes depict her as more as a little girl who enjoys playing with dolls and other "girly" stuff. It is never explained why Tootie is in love with Timmy. In some episodes and comics, Vicky is protective of her little sister and even encourages her to pursue Timmy as a means of tormenting him. From Season 2 and beyond however, Vicky is very mean, terrifies Tootie and her parents, and generally hates her little sister. Tootie dislikes Vicky as well, as she is willing to expose Vicky's cruel habits to Timmy's parents in Channel Chasers, and dreams of trashing her older sister's room. However, when Tootie was loaned Cosmo and Wanda to make up for a lousy birthday she did not use them to harm or get revenge on Vicky despite her ruining Tootie's birthday in the first place.
See the full article by clicking here.



Recently Featured: Chindred Spirits ♦ Fairly OddPet ♦ FOP Movie ♦ Frenemy Mine ♦ Christmas Everyday! ♦ Kung Timmy ♦ more...
Song of the Month
Gimme the Wand
Gimme the Wand is a musical number sung by Norm the Genie and Cosmo in the episode Fairy Idol.

Lyrics
Norm the Genie:
I'm a swinging G-E-N-I-E
Huh? Hey
Let me tell you
what that spells to me
When I'm shoved in a lamp,
It's cold and damp, man!
My wishing power stops at 3
And that's pretty dang annoying to me

I want that crazy power you fairies got
To grant those wishes that you grant a lot
Hey!
To give each and every child a great big smile
To me this means a lot, it ain't no evil plot

[Chorus]

Gimme the wand, and you'll all see
Gimme the wand, your fairy, I'd be
Gimme the wand, a-da-do-da-dee
I'll make you a natural blonde,
if you give me the wand
(Shoo-doop-shoo-be-do-wah)

(snake charmer music playing)

Cosmo:
I'm a... oh hang on,
F-A-I-R-Y
We did our very best
for this buck toothed guy
(Shoop-bah-doo-bap-Dooby-doo-wah!)
That vest-wearing slob
He may want our job

Norm:
Well, duh.

Cosmo:
But give us
One more try
You really can't deny

Cosmo and Norm:
Give us the wand, we'll have a ball
(Doot-doot-bap-dooby-doo-zow!)

Norm:
Give me the wand

Wanda:
He'll enslave you all!
(Doot-doot-bap-dooby-doo-zow!)

Cosmo and Norm:
Give us the wand, a-do-doo-dow
(Doot-doot-bap-dooby-doo-zow!)
We really hope, you all respond
Come on, give us the wand
And set me free
(Doot-doot-bap-dooby-doo-zow)
Give us the wand, and hear our plea
(Doot-doot-bap-dooby-doo-zow)
Give us the wand, a-doo-dah-dee
(Doot-doot-bap-dooby-doo-zow)
Don't let yourself be conned

Now give us the wand.
---
Recently Featured: A Million Wishes ♫ Lookin' Like Magic ♫ I Wish It Could Be Christmas Every Day ♫ Floating With You ♫ Icky Vicky
Random Image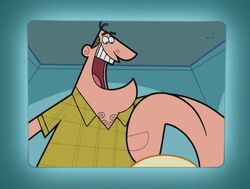 Next Episode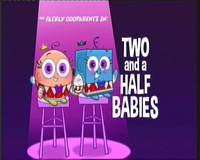 Foop and Poof must take care of an egg for a school project.
This episode will air in:
To Be Announced
Headlines
Loading RSS data...
( Refresh | More news... )

Create blog post
Nickelodeon is getting in the holiday spirit with its upcoming movie "A Fairly Odd Christmas"', set to premiere Friday, Nov. 29 at 7/6c, TVGuide.com can reveal exclusively.

The movie follows the latest adventures of Timmy Turner (Drake Bell) and his childhood friend Tootie (Daniella Monet), who travel a…

Read more >

The final unaired Season 7 episode Farm Pit will be premiering August 5, 2012 at 10:00 AM (Eastern) on Nickelodeon USA!




The episode involes when Mr. Turner has been fired from his job, so he tries to start up a farm instead. Unfortunately, he has no luck at growing anything, so Timmy wishes his father's…


Read more >
See more >
Create blog post
If you enjoy editing on the Wiki but doesn't have an account, please register !

Starting Jul 1st, Wikia will be turning anonymous editing off for wikis directed to people 12 years of age or younger, an…

Read more >

Hey Fairly Odd people!
Wikia is organizing a competition called Time to Play. It's a way Wikia found to honor and promote the best article of which Wiki. You can learn more about "Time to Play", here.
…



Read more >
See more >
We are also currently building communities in the following languages: