| | | | | |
| --- | --- | --- | --- | --- |
| Episodes | Cast & Crew | Songs | Merchandise | Forum |
Featured Article
"The Switch Glitch" is the fourteenth episode of Season 2. After Timmy Turner's parents break a promise and leave him with Vicky, only for her to torment him again, Timmy wishes that he was the babysitter and Vicky was the child in order to get revenge. Vicky is turned into a five year old child, and Timmy forces her to do pointless chores while bullying her, but his harsh treatment of Vicky results in Cosmo and Wanda being transferred to Vicky, who uses them to get revenge on Timmy. Now Timmy must find a way to make Vicky happy and less miserable again, or else he could lose his godparents forever.
See the full article by clicking here.


Recently Featured: Chindred Spirits ♦ Fairly OddPet ♦ FOP Movie ♦ Frenemy Mine ♦ Christmas Everyday! ♦ Kung Timmy ♦ more...
Headlines
Create blog post
Nickelodeon has scheduled new episodes for the new season of "The Fairly OddParents" this winter.

Here's a full list of every episode coming this winter:

-Friday 1/15 @ 7:30 p.m. "The Big Fairy Share Scare" Due to a loophole in the rules, Timmy must now share his fairies with a little girl named Chloe …

Read more >

Nickelodeon has scheduled lots of new episodes of "The Fairly OddParents" this Summer. There'll be four weeks of new episodes, leading up to the premiere of the all new live-action movie "A Fairly Odd Summer".

Here's a full list of every episode coming this Summer:

- Monday, 7/7 @ 3:00 p.m.
"Cosmonopoly/ H…


Read more >
See more >
Create blog post
Hello, Odd people!

It's beginning to look a lot like Christmas, so we have changed our Wiki for the occasion. We have new background, colors and special decoration in the home page. Don't forget to ta…

Read more >

Hello, Odd people!

I've recently updated this Wiki's mainpage, and one of the changes was to add a Poll to it. Our first poll had the question "Which of these characters do you wish would appear in the…

Read more >
See more >
"I knew you were crazy; I just didn't think you were... this crazy."
—Chester McBadbat
Random Image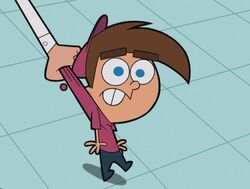 Poll
Best Fairly Oddparents Main Character?
We are also currently building communities in the following languages:
Ad blocker interference detected!
Wikia is a free-to-use site that makes money from advertising. We have a modified experience for viewers using ad blockers

Wikia is not accessible if you've made further modifications. Remove the custom ad blocker rule(s) and the page will load as expected.