Upcoming Episodes To Be Announced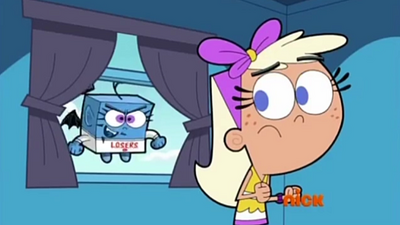 "Return of the L.O.S.E.R.S."
"Timmy's enemies learn that he is helpless without his fairies and try to destroy him while he is weak. "
Premiere dates TBA
| | | | | |
| --- | --- | --- | --- | --- |
| Episodes | Cast & Crew | Songs | Merchandise | Forum |
Featured Article
Cosmo Julius Cosma is one of the main characters on the show. He is one of Timmy Turner's fairy godparents alongside his wife, Wanda. His head is full of grape jelly, according to Fairly Odd Baby. He is the only son of the overprotective Mama Cosma, who does not approve of his marrying Wanda in the least bit and has often tried to separate the two. He was once the last Fairy ever born, until Poof came. He apparently was in a band where he played the electric triangle, though tomatoes were thrown at him every time he played. He is usually the cause behind Timmy's adventures, often misunderstanding circumstances, or agreeing to grant a dumb wish. He will sometimes cause Timmy to realize what has to be done to reverse a wish, but this does not happen often. He is often the subject of magic from Wanda, who usually does something to him to shut him up, including zipping his mouth, and then encasing him in vanadium. There are countless other scenarios. He is often rather careless, but loves Wanda and Timmy Turner through his destructiveness. It is also noted that even though he sometimes messes up with his magic, it's very powerful, as shown when he was able to accidentally wish away Wanda's wand and make wands in Wishology, which is something that it is said that fairies cannot do when they say that magic cannot wish away magic. Ever since the day Cosmo was born, he has been causing chaos. When he got a magical rattle, he accidentally used it to turn Jorgen Von Strangle into a bomb that blew up a part of Fairy World. The second he got old enough to receive his first wand, he turned his father into a fly, never to be seen again. Later on, because of his lack of control over his magic, his mother sent him to the Fairy Godparent Academy.
See the full article by clicking here.


Recently Featured: Chindred Spirits ♦ Fairly OddPet ♦ FOP Movie ♦ Frenemy Mine ♦ Christmas Everyday! ♦ Kung Timmy ♦ more...
Headlines
Create blog post
Nickelodeon has scheduled new episodes for the new season of "The Fairly OddParents" this winter.

Here's a full list of every episode coming this winter:

-Friday 1/15 @ 7:30 p.m. "The Big Fairy Share Scare" Due to a loophole in the rules, Timmy must now share his fairies with a little girl named Chloe …

Read more >

Nickelodeon has scheduled lots of new episodes of "The Fairly OddParents" this Summer. There'll be four weeks of new episodes, leading up to the premiere of the all new live-action movie "A Fairly Odd Summer".

Here's a full list of every episode coming this Summer:

- Monday, 7/7 @ 3:00 p.m.
"Cosmonopoly/ H…


Read more >
See more >
Create blog post
Hello, Odd people!

It's beginning to look a lot like Christmas, so we have changed our Wiki for the occasion. We have new background, colors and special decoration in the home page. Don't forget to ta…

Read more >

Hello, Odd people!

I've recently updated this Wiki's mainpage, and one of the changes was to add a Poll to it. Our first poll had the question "Which of these characters do you wish would appear in the…

Read more >
See more >
"I told you, You Doo Dolls are dangerous. [goes under You-Doo spell] But what the heck do I know? In fact, poof up a whole big box full of You-Doo dolls! And let's wish up more pudding for Cosmo! I'm a nag! Let's do the Nag Dance! [singing] You nag it to the left, You nag it to the right, I love to nag my husband all day and night!"
—Wanda
Random Image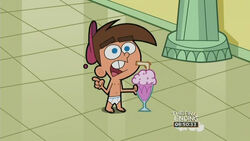 Poll
What was your favourite episode this week?