Home
Talk

14
6,077pages on
this wiki
What's New

A Fairly Odd Summer


The gang heads to Hawaii for vacation, but Timmy ends up putting the whole Fairy World in danger. Now, he must defeat Crocker and Foop in a magical adventure that may change his future forever. The newest "Fairly Odd" movie has just premiered. Click in the title to know more.
| | | | | |
| --- | --- | --- | --- | --- |
| Episodes | Cast & Crew | Songs | Merchandise | Forum |
Featured Article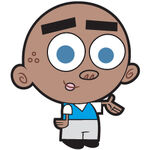 A.J. is one of Timmy Turner's two best friends along with Chester McBadbat. A.J. is smart and rich, but is not very good at social skills and as a result he is considered an unpopular kid like his two friends. A.J. is considered a super genius by his friends. He is the only student that seems to ever pass tests in Mr. Crocker's class. He usually wins the school science fair as well, even when up against Timmy and his fairies, because fairies cannot help win competitions. A.J.'s family is very wealthy and they live in a big house, which is located near Chester's trailer park. Although A.J. doesn't have a girlfriend, he did once have a friendly exchange with Trixie Tang when he offered her a dead frog and she found it "neat", although Chester dragged him off before he could make anything of it. Another time when Trixie was getting angry that Timmy was ignoring her ignoring him, A.J. said that Trixie could ignore him all she wanted. He usually scoffs at Timmy's own attempts to woo Trixie Tang, but possibly has a crush on her himself, in the episode Emotion Commotion he wanted to be "the best-friend of Timmy's she gets with to get back at him" but she goes with Chester instead. Francis bullies A.J. much like the other smaller kids, but A.J. sometimes uses his inventions to defend himself. He is bald dark skinned, possibly African-American, and wears a blue sweater vest which Timmy describes as a "chick magnet", over a white shirt, and he has gray pants with black shoes. His pupils are colored blue. A.J. is around the same height as Chester and Timmy.
See the full article by clicking here.


Recently Featured: Chindred Spirits ♦ Fairly OddPet ♦ FOP Movie ♦ Frenemy Mine ♦ Christmas Everyday! ♦ Kung Timmy ♦ more...
Headlines
Create blog post
Nickelodeon has scheduled lots of new episodes of "The Fairly OddParents" this Summer. There'll be four weeks of new episodes, leading up to the premiere of the all new live-action movie "A Fairly Odd Summer".

Here's a full list of every episode coming this Summer:

- Monday, 7/7 @ 3:00 p.m.
"Cosmonopoly/ H…


Read more >

Nickelodeon is getting in the holiday spirit with its upcoming movie "A Fairly Odd Christmas"', set to premiere Friday, Nov. 29 at 7/6c, TVGuide.com can reveal exclusively.

The movie follows the latest adventures of Timmy Turner (Drake Bell) and his childhood friend Tootie (Daniella Monet), who travel a…

Read more >
See more >
Create blog post
Hello, Odd people!

I've recently updated this Wiki's mainpage, and one of the changes was to add a Poll to it. Our first poll had the question "Which of these characters do you wish would appear in the…

Read more >

Hey
I decided to make some changes to the mainpage, since I realized we use the same design since...well, a long time.

So, I hope you guys like the new style. Give us feedback in the comments below, an…


Read more >
See more >
"
If Chip doesn't show up, I'm going to punish our son for no reason!
"
Random Image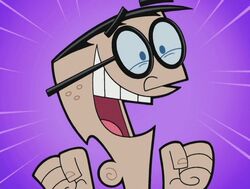 Poll
How much did you enjoy 'A Fairly Odd Summer'?
We are also currently building communities in the following languages: