Home
Talk

14
5,926pages on
this wiki

| | | | | |
| --- | --- | --- | --- | --- |
| Episodes | Cast & Crew | Songs | Merchandise | Live-Action |
Featured Article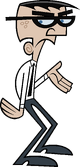 Denzel Crocker, or Mr. Crocker, is Timmy's delusional and insane teacher. His main mission in life is to capture a Fairy Godparent. During his youth in the 1970's he had Fairies of his own (Cosmo and Wanda), but after having lost them and having his memory erased he left himself an encrypted message to himself "Fairy Godparents are real" and since he swore he would capture a Fairy. During the 80's his obsession with Fairies led to his expulsion from Dimmsdale University for his insane crackpot theories. He lives with his mother in the room above her garage and it is filled with drawings of fairy godparents and has pictures of Cosmo and Wanda which he showed to his university which caused him to become a laughing stock. His deformities (such as his ears and his hunchbacked) were caused by Jorgen Von Strangle when he overused the memory eraser when Crocker had revealed his secret. Geraldine Waxelplax used to have a crush on him during his youth. He used to collect the Crimson Chin comic book when he was a kid. He loves giving his students Fs except for A.J.. He was born in 1962 and he is 46 years old.
See the full article by clicking here.


Recently Featured: Chindred Spirits ♦ Fairly OddPet ♦ FOP Movie ♦ Frenemy Mine ♦ Christmas Everyday! ♦ Kung Timmy ♦ more...
Headlines
Create blog post
Nickelodeon has scheduled lots of new episodes of "The Fairly OddParents" this Summer. There'll be four weeks of new episodes, leading up to the premiere of the all new live-action movie "A Fairly Odd Summer".

Here's a full list of every episode coming this Summer:

- Monday, 7/7 @ 3:00 p.m.
"Cosmonopoly/ H…


Read more >

Nickelodeon is getting in the holiday spirit with its upcoming movie "A Fairly Odd Christmas"', set to premiere Friday, Nov. 29 at 7/6c, TVGuide.com can reveal exclusively.

The movie follows the latest adventures of Timmy Turner (Drake Bell) and his childhood friend Tootie (Daniella Monet), who travel a…

Read more >
See more >
Create blog post
Hey
I decided to make some changes to the mainpage, since I realized we use the same design since...well, a long time.

So, I hope you guys like the new style. Give us feedback in the comments below, an…


Read more >

The FOP Wiki wishes a Merry Christmas for all of our editors!

Read more >
See more >
Countdown to A Fairly Odd Summer
Random Image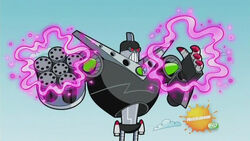 Poll
Which of this characters do you wish would appear in the show again?
We are also currently building communities in the following languages: