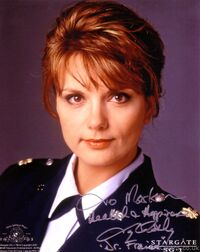 Teryl Rothery (b. November 9, 1962) is a Canadian actress. She is best known for her role as Dr. Janet Fraiser on Stargate SG-1.[1] She plays Mrs. Turner in the Fairly Odd Movie Trilogy.
Career
Rothery was born in Vancouver, British Columbia. She started her career when she played in the musical Bye Bye Birdie at the age of thirteen, and knew that she belonged in front of the camera when she played in the CBC Halloween special Boo at the age of eighteen.
She is best known for her role as Dr. Janet Fraiser on Stargate SG-1 which she played from the show's beginning in 1997 through 2004 (and again as a guest appearance in 2006). She has also appeared on many other sci-fi series, including The X-Files, The Outer Limits, First Wave, Jeremiah, M.A.N.T.I.S., Kyle XY, Eureka and many others. She played a small role in the Babylon 5 direct-to-DVD movie Voices in the Dark as an ISN Reporter, mentioned only as Ms. Chambers. She played Lenore Molee in the 1994 TV movie For the Love of Nancy, and she has also done voice acting work. In 2010, she was on the Battlestar Galactica spin-off prequel Caprica as Evelyn, the eventual mother of Battlestar Galactica's Admiral William Adama.
Most recently she has been acting on theatre in her native Vancouver—appearing in Kiss Me, Kate and The Taming of the Shrew in March 2006. In March 2007 she appeared in A Delicate Balance by Edward Albee, a role for which she was nominated for a Jessie Richardson Theatre Award.
Rothery has been nominated for four Leo Awards. In 2004 she was nominated in two categories: Best Supporting Performance by a Female in a Dramatic Series for the Stargate SG-1 episode "Lifeboat", and Best Guest Performance by a Female in a Dramatic Series on The Collector. In 2008 she was nominated in the category: Best Performance by a Female in a Short Drama for her work in the short film Coffee Diva.In 2009 she was nominated in the category: Best Supporting Performance by a Female in a Dramatic Series for the episode "Sound of Loneliness" from The Guard. In 2011 she played Mrs. Turner in "A Fairly Odd Movie: Grow Up, Timmy Turner!", and reprised the roles in the sequels "A Fairly Odd Christmas" and "A Fairly Odd Summer".
Filmography
Film and television
Year
Title
Role
Notes
1986
Project A-ko
Eiko "A-ko" Magami
Magami in the English dubbed movie and OAV series.
1987
Ranma ½
Kodachi Kuno
Voice in English dubbed version until 5th seasion.
1992
Mortal Sins
Lena Falcone
1993
Exosquad
Lt. Maggie Weston
1993–1995
1994
Andre
Jennifer File
1995
Dragon Ball
Mai
Early 13 episode 1995 English dub.
1996
Profit
Constance Gracen
1996
InuYasha
Princess Abi
1996
Dragon Ball: Curse of the Blood Rubies
Raven
1996
The Outer Limits
Janet Peston, Dr. Lucy Cole
1997
Stargate SG-1
Janet Fraiser
Seasons 1-7
1997
Warriors of Virtue
Kathryn Jeffers
1997
Masterminds
Ms. Saunders
2001
Help! I'm a Fish aka A Fish Tale
Mother
2002
Stargate SG-1
Heimdall
Voice
2002
Jeremiah
Mother
Premier episode
2003
G.I. Joe: Spy Troops
Baroness
Voice
2003
Martin Mystery
M.O.M.
2003–2006
2004
Dead Like Me
Linda the Realtor
3 episodes
2004
G.I. Joe: Valor vs. Venom
Baroness
Voice
2005
The Sandlot 2
Mrs. Goodfairer
2006
Kyle XY
Carol Bloom
2006–2009
2006
Barbie: Mermaidia
Pink Merfairy
2007
Psych
Glenda
1 episode
2007
Babylon 5: The Lost Tales
Ms. Chambers
2007
Eureka
Diane Lancaster
1 episode
2009
Alice
Carol Hamilton
2009
Good Boys and True
Elizabeth Hardy
By Roberto Aguirre-Sacasa at the Firehall Arts Centre in Vancouver; September 9-19
2009
Street Fighter IV
Rose
2010
Caprica
Evelyn
2010
Hellcats
Mrs. Monroe
Episode: "I Say a Little Prayer"
2010
Battle of the Bulbs
Mary Jones
2011
A Fairly Odd Movie: Grow Up, Timmy Turner!
Mrs. Turner
2012
A Fairly Odd Christmas
Mrs. Turner
2014
A Fairly Odd Summer
Mrs. Turner
Fairly Odd Movie
Teryl plays Mrs. Turner in A Fairly Odd Movie: Grow Up, Timmy Turner!.She has been seen smiling happily alongside her husband at their now son 23-year old son Timmy, until he reveals that he wants to live with them forever. At some point of the movie, her and her husband are seen "vacationing" outside their house until Denzel Crocker falls from the sky in front of them.
References
Ad blocker interference detected!
Wikia is a free-to-use site that makes money from advertising. We have a modified experience for viewers using ad blockers

Wikia is not accessible if you've made further modifications. Remove the custom ad blocker rule(s) and the page will load as expected.