Trivia
This episode is similar to the Oh Yeah Cartoon short, The Zappys!, in which Jorgen Von Strangle reveals that he was already married to the Tooth Fairy. Timmy also lost his teeth in that episode.
Mrs. Turner appears only at the beginning.
This is the second episode to show Timmy being attacked by dogs, the first one being Sleepover and Over.
Dr. Bender makes his last appearance in this episode, and is not voiced by his usual guest star voice actor. Instead he is voiced by Butch Hartman.
At the restaurant when Wanda shows Jorgen her "wedding ring," it's on her right hand instead of her left.
Timmy seems pretty happy about losing his tooth, while in The Zappys, he seemed quite unhappy about losing them.
Apparently when Timmy starts growing up, Mrs. Turner starts to freak out about this a bit as that she means she's becoming old.
Jorgen mentions that Timmy's tooth is the dental equivalent of the Hope Diamond, a supposedly cursed diamond that can be identified by its red glow in ultraviolet light.
This is the second episode to show Jorgen becoming skinny, the first one being Action Packed.
This is the only episode where Mrs. Dinkleberg appears without her husband, Sheldon Dinkleberg.
Allusions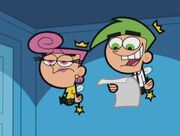 Teeth For Two - The title is a reference to the saying "tea for two" and/or phrase "table for two" which is commonly used in restaurants.

CatDog - This is the episode of same name from the Nicktoon, CatDog.

Star Wars Episode 3: Revenge of the Sith - Mrs. Dinkleberg aging after Mrs. Turner stole the former's car is a reference to Darth Sidious' face aging caused by his attack being deflected by Mace Windu's light saber
All the nicknames Cosmo put for Timmy' teeth are puns:
Roman Catholic Devotions - Dr. Bender's line "It worked for the pilgrims" is a reference to the devotions at St. Charles Borromeo.
Goofs
If you look carefully at the pictures in the restaurant, there's a picture of Britney Britney with a fairy crown, but in all other episodes, Britney Britney is a human.
When Jorgen starts hugging Cosmo and Wanda you can see them wearing their formal clothes, but in the treehouse they are wearing their normal clothes. When Jorgen finally lets go of Cosmo and Wanda in Timmy Turner's bedroom, they're wearing their formal clothes again.
Timmy is shown to have a lot of teeth, but when Dr Bender yanks out the loose tooth, Timmy has no teeth until the Tooth Fairy gives him new teeth.
Running Gags
Jorgen calling Cosmo and Wanda as his closest friends.
Jorgen pulling off Timmy's teeth.
People calling Jorgen a bully.
Cosmo having a crush on the Tooth Fairy and Wanda getting mad at him.

When Wanda gets mad at Cosmo for showing his attraction to the Tooth Fairy, Cosmo will say stuff like "Look! I'm a donkey! Hee-haw!" and "Look! I'm clamming up!" and then poofing into that animal.

Cosmo mentioning one of Timmy's tooth nicknames to him.
Cosmo and Wanda poofing up notes to Timmy owing the latter.
Ad blocker interference detected!
Wikia is a free-to-use site that makes money from advertising. We have a modified experience for viewers using ad blockers

Wikia is not accessible if you've made further modifications. Remove the custom ad blocker rule(s) and the page will load as expected.