Ad blocker interference detected!
Wikia is a free-to-use site that makes money from advertising. We have a modified experience for viewers using ad blockers

Wikia is not accessible if you've made further modifications. Remove the custom ad blocker rule(s) and the page will load as expected.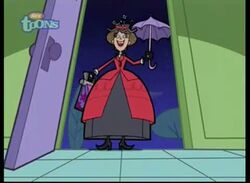 Suzy Califragelistic was a babysitter that Remy Buxaplenty hired to watch over Timmy Turner so he wouldn't have to have Vicky babysit him. She only made an appearance in the episode Remy Rides Again
Trivia
She is a parody of Mary Poppins.
Her name is a parody of the word "supercalifragilisticexpialadocious," which was a made up word in Mary Poppins.
See Also