SpongeBob SquarePants
Comments

12
6,190pages on
this wiki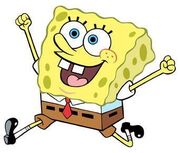 SpongeBob SquarePants is the main protagonist, and the eponymous character, of the Nickelodeon animated comedy series of the same name.
It has starred alongside characters from "Fairly OddParents" in the Nicktoons videogames "Nicktoons Unite!", "Nicktoons: Battle for Volcano Island" and "Nicktoons: Attack of the Toybots".
He and his show have been referenced several times in the show.