Trivia
It is revealed that Timmy had asked his dad one million times to go to the Dimmsdale Aquarium.
Allusions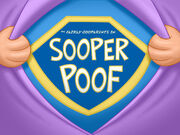 Superman - The title card is a reference to Superman' symbol, and the plot of the episode is a reference to his origin.
Apple Jacks - The name of the cereal Wanda was disguised as "Wanda Jacks" is a spoof of the cereal brand.
Baby On Board - The "alien baby on board" sign is a clearly reference of the "baby on board" sign.
Running Gags
Characters taking a nap.
Timmy trying to get Poof back to his parents, but he fails in each attempt and ends up getting into trouble.
Animal hunters thinking they caught rare albino animals (Like Cosmo as a Lion)
Goofs
If you see closely to the market shelves, when Poof becomes a monster the cereals on the shelves are not the monsters ones.
Mrs. Turner' shopping cart disappears in several scenes.
Poof wore Timmy's hat in this episode and Beach Blanket Bozos and had no problems with it. However in School of Crock, He thinks that Timmy should get rid of his pink hat.
According to the show, Timmy's parents would be under no legal authority to ground Timmy forever, since he, past 18, would be considered an adult.
How did Mr. Turner got a picture of Poof?. This goof was mentioned by Mr. Turner.
Ad blocker interference detected!
Wikia is a free-to-use site that makes money from advertising. We have a modified experience for viewers using ad blockers

Wikia is not accessible if you've made further modifications. Remove the custom ad blocker rule(s) and the page will load as expected.