Sheen Guerrero Estevez




Gender:
Male
Species:
Human
Age:
12
Hair color:

     

Black
Eye color:

     

Blue (2D)

Brown (CGI)
Family
Parents:
Mr. Estevez
Sheen Guerrero Estevez
was one of
Jimmy
's closest friends and one of the main protagonists on the television series
The Adventures of Jimmy Neutron: Boy Genius
.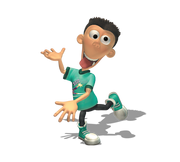 Information
Sheen was one of Jimmy's best friends, along with Carl Wheezer. He was a person with a very energetic and unique personality and was seen as the wacky one of the group. He seemed more aware than the other Jimmy Neutron characters about how he's flatter in Timmy's world due to being 2D.
Relationships
Sheen and Cosmo
In When Nerds Collide!, Sheen and Cosmo quickly took a liking to each other because of their similar personalities and ways of thinking. They worked together to create illogical wishes to get Jorgen angry enough to regain control of his body.
See Also
Exteral Links
Ad blocker interference detected!
Wikia is a free-to-use site that makes money from advertising. We have a modified experience for viewers using ad blockers

Wikia is not accessible if you've made further modifications. Remove the custom ad blocker rule(s) and the page will load as expected.