Ad blocker interference detected!
Wikia is a free-to-use site that makes money from advertising. We have a modified experience for viewers using ad blockers

Wikia is not accessible if you've made further modifications. Remove the custom ad blocker rule(s) and the page will load as expected.
Trivia
Allusions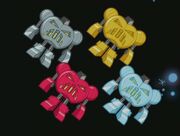 Transformers - The Jack-O-Bots name is a play on the "Autobots", although the Jack-O-Bots themselves are evil while the Autobots are good. (This makes them more similar to the Autobots' enemies, The Decepticons)
Toys Я Us - Vicky's insult, "Where did you get the stupid European costumes, Dorks R Us?" contains a play on the chain's name.
Goofs