Trivia
Allusions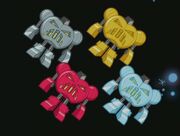 Transformers - The Jack-O-Bots are an allusion to the "Autobots", except that the Jack-O-Bots are evil, while the Autobots are good. (The Jack-O-Bots being evil makes them similar to the Autobots' enemies: The Decepticons)
Pokémon - The Jack-O-Bot names are not only named after minerals/metals, but they also are similar to the Pokémon version names from the videogames including Pokémon Gold and Pokémon Silver (for the Game Boy Color), Pokémon Diamond (for the DS) and Pokémon Ruby (for the Game Boy Advance).
Rugrats - The plot of this episode had a similar plot to the Rugrats' episode, "Curse of the Werewuff".
Buffy the Vampire Slayer - In the episode, Halloween, most of the characters are turned into the costumes they are wearing.
"The Twilight Zone" - In the episode "The Masks", four benefactors are turned into monsters by the hideous masks each wears.
Goofs