Sanjay's House is a military style base where Sanjay and his family live. It is a really strange place to raise a child.
Inside
Only Sanjay's room appears. It is filled with many troop and army souvenirs, considering that his house, as mentioned before, is basically a military base.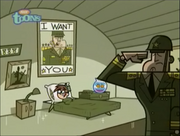 Outside
The outside has a tank parked, a willy's jeep, and fence with barbed wire.
Backyard
There is usually large military base in the background, including an air strip.
Ad blocker interference detected!
Wikia is a free-to-use site that makes money from advertising. We have a modified experience for viewers using ad blockers

Wikia is not accessible if you've made further modifications. Remove the custom ad blocker rule(s) and the page will load as expected.