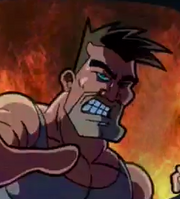 Ryan McCain is a fictional character in the Fairly OddParents universe. He is a loose canon cop who fights doesn't play by the rules in the movie Loose Cannon Cop Who Doesn't Play By The Rules!. He appeared in the episode Action Packed. Also they did a musical adaptation of him in in Chip off the Old Chip.
Ad blocker interference detected!
Wikia is a free-to-use site that makes money from advertising. We have a modified experience for viewers using ad blockers

Wikia is not accessible if you've made further modifications. Remove the custom ad blocker rule(s) and the page will load as expected.