Poseidon




Gender:
Male
Species:
Greek God
Age:
Immortal
Production Information
First Appearance:
 
Freaks and Greeks
Latest Appearance:
 
Freaks and Greeks
Voiced by:
S. Scott Bullock
Poseidon is the Greek God of the Sea, and one of The Olympian Gods, mythological gods that reside on Mount Olympus and love to party.
Information
Within the series, he is a person who loves to party, like his fellow Olympian Gods. He also loves water, seeking out sources of water wherever he goes, an example being when he is seen hugging the Turner's toilet.
Description
Poseidon is a tan muscular being with long, blonde flowing hair and a large beard. From his waist down, he has a fish tail instead of legs, meaning he is a merman. He is shown to be able to move on land by sliding along on his fish tail.
Background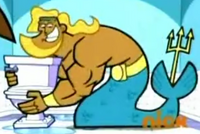 See Also
Ad blocker interference detected!
Wikia is a free-to-use site that makes money from advertising. We have a modified experience for viewers using ad blockers

Wikia is not accessible if you've made further modifications. Remove the custom ad blocker rule(s) and the page will load as expected.