Ad blocker interference detected!
Wikia is a free-to-use site that makes money from advertising. We have a modified experience for viewers using ad blockers

Wikia is not accessible if you've made further modifications. Remove the custom ad blocker rule(s) and the page will load as expected.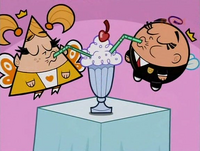 Poof and Goldie is a pairing in the episode Love Triangle. Not much else is known about this pairing, other than Foop is a competitor for her affections.
Reasons
Poof was fighting over her
Poof and Goldie shared a milkshake
Goldie and Poof kissed twice
In some scenes, they are standing beside each other