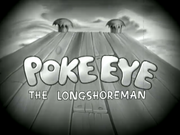 Poke Eye the Longshore Man is an old black-and-white cartoon described by
Timmy
as:
"The most graphic display of vortutous, yet non-imitatable violence I've ever seen!"
In fact, it is so violent, TVs will explode after viewing it for a little while.It is a parody of
Popeye
.
Outline of the Show
The show is about a longshore man named Poke Eye, who whenever is confronted by a problem, he eats a can of beets to become extremely strong and use violence as the answer.
The show is a parody of Popeye the Sailor, a TV show from Paramount and Famous Studios made in color.
Ad blocker interference detected!
Wikia is a free-to-use site that makes money from advertising. We have a modified experience for viewers using ad blockers

Wikia is not accessible if you've made further modifications. Remove the custom ad blocker rule(s) and the page will load as expected.