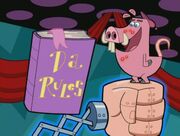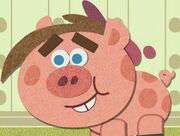 The Switch Glitch
Pig Timmy is a variation of Timmy Turner, only seen in The Switch Glitch. He is accidentally created when Vicky turns him into a pig with acme.
Channel Chasers
A variation of Pig Timmy appeared in Channel Chasers, while Timmy traveled into the Clint's Hints television program (a parody of Blue's Clues), but has a somewhat smaller role than on The Switch Glitch.
Ad blocker interference detected!
Wikia is a free-to-use site that makes money from advertising. We have a modified experience for viewers using ad blockers

Wikia is not accessible if you've made further modifications. Remove the custom ad blocker rule(s) and the page will load as expected.