Trivia
The title card music is reused from Mission Responsible.
MEAN stands for Ministry of Evil and Abusive Neighbors.
This is the first time Sheldon Dinkleberg has appeared on a title card.
Dinkledog from "Channel Chasers" return in this episode.
This episode shows Sheldon Dinkleberg as a gentle person, but when he was younger he wasn't so gentle, he even left Mrs. Turner in exchange for becoming a rich man, as seen in The Secret Origin of Denzel Crocker. This means he had a change of heart between these two events.
This is the second time Cosmo and Wanda are attacked by piranhas, the first was Emotion Commotion!.
This is the first time Poof was eaten by pirahnas.
The picture of Sheldon Dinkleberg shaking hands with Richard Nixon is possible taken in 1993 or 1994, as Dinkleberg is shown in the picture between his 30s and 40s, and he begins to have brown hair in early 30s.
Allusions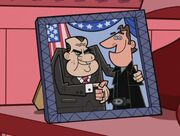 Mr. Turner is wearing Argentina soccer outfit when he was putting his tie on.
Friday the 13th - When Timmy says "Don't you think, you're exaggerating a bit?", Mr. Turner is wearing using a mask and a chainsaw much like Jason Voorhes.
Kid vs. Kat - Mr. Turner proving that Dinkleberg is bad is similar to Coop proving that Kat is bad. Also, the way he caught up Mr. Turner to destroy him is similar the way Kat makes the same to Coop in some episodes.
Goofs
When Timmy says "I wish my Dad was free", Poof is seen using a common wand instead of his rattle.
After Poof sees Dad being attacked by Dinkleberg on the screen, he says "poof poof!", but his lips don't move.
Timmy gets covered by the smoke, but his eyes are still there, as if he was invisible. When the scene cuts back to Timmy, his head shows out, the next scene shows no dust of any kind.
At the beginning of the episode the lift was in the ceiling and later in the episode when Mrs. Turner used it, it somehow worked.
In the start of the episode, Timmy states it's July. Later on, Dinkleberg asks "Santa" why he's visiting in September.
Running Gags
Mr. Turner telling Timmy to use the girl voice.
Mr. Turner calling Timmy Goldilocks and calling himself Papa Bear.
Mr. Turner thinking some bad event that happened to him is Dinkleberg's fault at the beginning of the episode.
Mr. Turner talking about his and Dinkleberg's kidneys.
Ad blocker interference detected!
Wikia is a free-to-use site that makes money from advertising. We have a modified experience for viewers using ad blockers

Wikia is not accessible if you've made further modifications. Remove the custom ad blocker rule(s) and the page will load as expected.