Trivia
This episode and Frenemy Mine were the first episode pair to debut this season, and the first since 9 Lives / Dread N' Breakfast. Since Post-Cancellation, most episodes debut once at a time everyday over one week.
The bus driver has a tattoo on his arm that says "Thug 4 Life".
This episode has an alternate version of the title card where Timmy is seen playing with various other instruments, including a guitar and an accordion with his feet. The title card was created by Gordon Hammond.
Tootie's glasses are black in this episode.
Tootie also has made three cameos in this episode: First, she busts into Timmy's room, she then tries to jump into Timmy's limo, and finally she attends Timmy's concert while holding up a "Marry Me!" sign.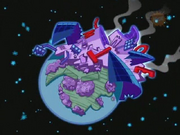 Allusions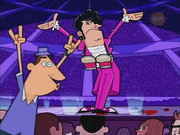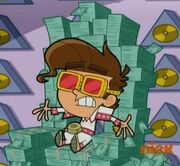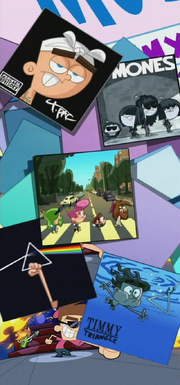 One Man Banned - a pun on "One-man band".
Prince - When Mr. Turner saves Timmy towards the end, he was dressed like Prince.
Falco - Mr. Bickles says "Rock Me Amadeus", which is a reference to Falco's song of the same name.
Elvis Presley - Timmy Triangle's descent from glory, and him becoming arrogant and overweight, mirrors Elvis' later career.
Michael Jackson - While making a music video, Timmy as a Michael Jackson-like zombie is dancing with zombie versions of Cosmo, Wanda and Poof which is a spoof of Jackson's 1980s music video and song, Thriller.
Okay Go - One of the scenes in the music video montage is similar to the music video of Okay Go's, "Here it Goes Again".
iPod - Another one of the scenes in the montage is similar to that of an iPod commercial.
The Beatles - During the montage, one of the album covers spoofs the famous image of the album cover, Abbey Road.
MC Hammer - When Timmy is shown topping the charts, "MC Hammerstein" appears on the list, which is a reference to the rapper.
Butch Hartman - The show's creator name comes incognito (The Butch Hartmans) as #27 in "The Top 100".
Running Gags
Timmy playing the triangle only for it to cause a soundwave that will sound awful to other people.
People booing and then throwing tomatoes at Timmy when they don't like his music.
Timmy being mistaken for a coat rack.