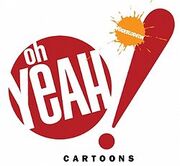 Oh Yeah! Cartoons
was an animation showcase produced by
Frederator Studios
.
Information
Oh Yeah! Cartoons is responsible for the creation of The Fairly OddParents and many other cartoon shorts that would end up becoming part of Nickelodeon's main line-up such as ChalkZone and My Life as a Teenage Robot. The first episode of The Fairly OddParents was aired in the eighth episode of Oh Yeah! Cartoons. The next two seasons of Oh Yeah! Cartoons featured several more FOP Shorts.
The Fairly OddParents shorts from Oh Yeah! Cartoons, which are sometimes referred to as Season 0, feature the main characters Timmy Turner, Cosmo, Wanda and Vicky. The shorts also introduced Jorgen Von Strangle, Tootie, and the Tooth Fairy, the latter two of which had alternate designs to their later FOP series counterparts. Timmy's parents were also featured in these shorts, although only their legs and pants are viewed most of the time and their faces were never shown, a play on older cartoons having parents/caretakers that remained mostly off-screen. Timmy's parents were given full character designs in the main half-hour series.
Around the same year the third season of Oh Yeah! Cartoons ended, The Fairly OddParents was picked up as an actual Nickelodeon series. It became by far and wide the biggest spin-off in terms of length and popularity.
See also
Ad blocker interference detected!
Wikia is a free-to-use site that makes money from advertising. We have a modified experience for viewers using ad blockers

Wikia is not accessible if you've made further modifications. Remove the custom ad blocker rule(s) and the page will load as expected.