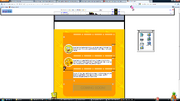 Nick Clickables are a series of characters so most people can use them on their PC/MAC. These debuted in March 17, 2003, the same year some episodes of the Fairly OddParents originally aired at those times. There's a clickable based on Timmy Turner from The Fairly OddParents where you can play with him, and enemies based on "Crocker Heads" from Information Stupor Highway, where they can attack him. You can only unlock the "Crocker Heads" by completing the Nick.com online game Cyberspace Chase. There's different kind of Clickables based on other characters you can download like SpongeBob SquarePants, Spike, and Jimmy Neutron. Currently, the Nick Clickables website is only accessed by going wayback on the website, Wayback Machine.
External links
Nick Clickables website at Nick.com (archived versions available at the Wayback Machine)
Ad blocker interference detected!
Wikia is a free-to-use site that makes money from advertising. We have a modified experience for viewers using ad blockers

Wikia is not accessible if you've made further modifications. Remove the custom ad blocker rule(s) and the page will load as expected.