Mark Gibbon is a Canadian actor and voice actor. In A Fairly Odd Movie: Grow Up, Timmy Turner! he plays Jorgen Von Strangle.
Career
Mark Gibbon's feature film credits include The Chronicles of Riddick, Joy Ride 2: Dead Ahead and The 6th Day starring Arnold Schwarzenegger. He has had numerous guest appearances on TV series such as Smallville (as Deputy, from 2001 to 2002), Stargate SG-1 (as M'zel from 1997 to 2004), The 4400, Sanctuary, Dark Angel and The Outer Limits. Gibbon has also voiced characters for many animated series, including Iron Man: Armored Adventures, Fantastic Four, InuYasha and Spider-Man Unlimited.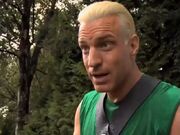 A Fairly Odd Movie
In A Fairly Odd Movie: Grow Up, Timmy Turner!, Gibbon plays Jorgen Von Strangle, the strongest and toughest fairy in Fairy World. A strict abider of "Da Rules", he is concerned that Timmy's extended possession of fairy godparents will risk their capture, so he's determined to make Timmy fall in love so he can grow up and lose Cosmo, Wanda and Poof forever.
Ad blocker interference detected!
Wikia is a free-to-use site that makes money from advertising. We have a modified experience for viewers using ad blockers

Wikia is not accessible if you've made further modifications. Remove the custom ad blocker rule(s) and the page will load as expected.