Home
Talk

16
6,305pages on
this wiki
| | | | | |
| --- | --- | --- | --- | --- |
| Episodes | Cast & Crew | Songs | Merchandise | Forum |
Featured Article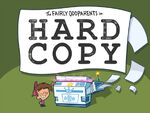 Hard Copy is the second episode of Season 4. While Cosmo and Wanda have to go to the doctor, Wanda grants Timmy a magic copier machine with the ability to grant him whatever he wants by scanning it. Problems arise when Timmy makes an action figure of Dark Laser (a parody of Darth Vader from Star Wars) and opts to press the life-size button over the normal-size button, which causes Dark Laser to become real and use the copier machine to wish up an armada of robot alien invaders, as well as a ship so powerful it can stop Wanda's magic. Cosmo is sidelined when Dr. Rip Studwell reveals that he suffers from a terrible disease: stupidity, and must be put through a number of humiliating and painful tests to be cured. Timmy must fight Dark Laser himself, using the copier machine and the toy magazine to wish up his own spaceship and, with Wanda resupplying him with wishes, goes off to fight Dark Laser head on above the streets of Dimmsdale.
See the full article by clicking here.

Recently Featured: Chindred Spirits ♦ Fairly OddPet ♦ FOP Movie ♦ Frenemy Mine ♦ Christmas Everyday! ♦ Kung Timmy ♦ more...
Headlines
Create blog post
Nickelodeon has scheduled lots of new episodes of "The Fairly OddParents" this Summer. There'll be four weeks of new episodes, leading up to the premiere of the all new live-action movie "A Fairly Odd Summer".

Here's a full list of every episode coming this Summer:

- Monday, 7/7 @ 3:00 p.m.
"Cosmonopoly/ H…


Read more >

Nickelodeon is getting in the holiday spirit with its upcoming movie "A Fairly Odd Christmas"', set to premiere Friday, Nov. 29 at 7/6c, TVGuide.com can reveal exclusively.

The movie follows the latest adventures of Timmy Turner (Drake Bell) and his childhood friend Tootie (Daniella Monet), who travel a…

Read more >
See more >
Create blog post
Hello, Odd people!

It's beginning to look a lot like Christmas, so we have changed our Wiki for the occasion. We have new background, colors and special decoration in the home page. Don't forget to ta…

Read more >

Hello, Odd people!

I've recently updated this Wiki's mainpage, and one of the changes was to add a Poll to it. Our first poll had the question "Which of these characters do you wish would appear in the…

Read more >
See more >
"
Let him go, Cleft. His chin themed brand of evil can never triumph. For wherever there is a single blade of grass in the lawn of all that is good...No...Wait...As long as there is a single slice of justice on the deli-tray that is goodness, our sandwich of righteousness will always be a low-fat and delicious victory! No, what I mean is...Oh wait, it's not me, it's the writer's fault!
"
Random Image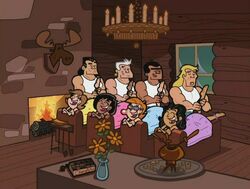 Poll
Which Christmas-themed episode is your favorite?
We are also currently building communities in the following languages: