15th Anniversary
"The Big Problem!"
The Fairly Oddparents Celebrated 15 Years on the Air in March with it's first episode, The Big Problem.
The show first premiered March 30th, 2001
| | | | | |
| --- | --- | --- | --- | --- |
| Episodes | Cast & Crew | Songs | Merchandise | Forum |
Featured Article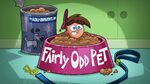 Fairly OddPet is the first episode of Season 9 and the introduction to the character Sparky. It premiered on March 23, 2013 before the 2013 Kids' Choice Awards. With the new season the cartoon was brought up to full high definition, as well as a new theme song animation sequence with minor changes including the inclusion of Poof. When Timmy realizes that everyone in Dimmsdale has a pet except for him, he adopts Sparky, a mischievous fairy dog with a troublesome past. However, owning a fairy dog proves to be a much bigger challenge than Timmy could have ever predicted.
See the full article by clicking here.


Recently Featured: Chindred Spirits ♦ Fairly OddPet ♦ FOP Movie ♦ Frenemy Mine ♦ Christmas Everyday! ♦ Kung Timmy ♦ more...
Headlines
Create blog post
Nickelodeon has scheduled new episodes for the new season of "The Fairly OddParents" this winter.

Here's a full list of every episode coming this winter:

-Friday 1/15 @ 7:30 p.m. "The Big Fairy Share Scare" Due to a loophole in the rules, Timmy must now share his fairies with a little girl named Chloe …

Read more >

Nickelodeon has scheduled lots of new episodes of "The Fairly OddParents" this Summer. There'll be four weeks of new episodes, leading up to the premiere of the all new live-action movie "A Fairly Odd Summer".

Here's a full list of every episode coming this Summer:

- Monday, 7/7 @ 3:00 p.m.
"Cosmonopoly/ H…


Read more >
See more >
Create blog post
Hello, Odd people!

It's beginning to look a lot like Christmas, so we have changed our Wiki for the occasion. We have new background, colors and special decoration in the home page. Don't forget to ta…

Read more >

Hello, Odd people!

I've recently updated this Wiki's mainpage, and one of the changes was to add a Poll to it. Our first poll had the question "Which of these characters do you wish would appear in the…

Read more >
See more >
"Hey, you're right, lollypop! I told you I'd love you until the end of time, and I still do!"
—Cosmo
Random Image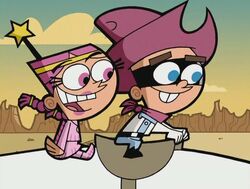 Poll
Which upcoming episode are you more excited for?