15th Anniversary
"The Big Problem!"
The Fairly Oddparents Celebrated 15 Years on the Air in March with it's first episode, The Big Problem.
The show first premiered March 30th, 2001
| | | | | |
| --- | --- | --- | --- | --- |
| Episodes | Cast & Crew | Songs | Merchandise | Forum |
Featured Article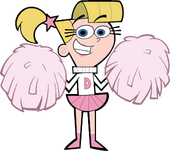 Veronica is a girl at Timmy Turner's school who is described as "less popular than Trixie Tang". Veronica seems to have incredibly bad luck! In every episode, she's either humiliated, put in pain, or snubbed. Although she is a popular kid, Trixie and the others still treat her as an inferior. Even Timmy doesn't seem to have much respect or sympathy for her. There are times where she wishes she was Trixie. She is also secretly in love with Timmy, as seen when Timmy was reading her mind. In the half hour special "Information Stupor Highway", she states that her love for Timmy burns with the white hot intensity of a thousand suns. Ironically, Timmy uses this same line, referring to Trixie, earlier in the episode. In the episode The Boy Who Would Be Queen, she felt actual physical pain when Trixie ripped a picture of her in half. Veronica is blond haired with her hair held back in a ponytail. She usually wears a cheerleader outfit with a pink skirt and white shirt. She once wore an identical outfit made entire out of tissue paper, sugar and powdered milk, and when she was pushed in a fountain it was revealed that she wears purple frilly panties. She is taller than the other students in her class, and is around the same height as Trixie. She usually speaks like a valley girl, and when in public she holds nothing but contempt for Timmy and his friends. However, it has been hinted several times that she may actually have a crush on Timmy.
See the full article by clicking here.


Recently Featured: Chindred Spirits ♦ Fairly OddPet ♦ FOP Movie ♦ Frenemy Mine ♦ Christmas Everyday! ♦ Kung Timmy ♦ more...
Headlines
Create blog post
Nickelodeon has scheduled new episodes for the new season of "The Fairly OddParents" this winter.

Here's a full list of every episode coming this winter:

-Friday 1/15 @ 7:30 p.m. "The Big Fairy Share Scare" Due to a loophole in the rules, Timmy must now share his fairies with a little girl named Chloe …

Read more >

Nickelodeon has scheduled lots of new episodes of "The Fairly OddParents" this Summer. There'll be four weeks of new episodes, leading up to the premiere of the all new live-action movie "A Fairly Odd Summer".

Here's a full list of every episode coming this Summer:

- Monday, 7/7 @ 3:00 p.m.
"Cosmonopoly/ H…


Read more >
See more >
Create blog post
Hello, Odd people!

It's beginning to look a lot like Christmas, so we have changed our Wiki for the occasion. We have new background, colors and special decoration in the home page. Don't forget to ta…

Read more >

Hello, Odd people!

I've recently updated this Wiki's mainpage, and one of the changes was to add a Poll to it. Our first poll had the question "Which of these characters do you wish would appear in the…

Read more >
See more >
"This is home. I was raised right here in Dimmsdale! And the name's not Saffron Sippin' Wheat Grass Gurglin' anything, it's Tootie!'"
—Tootie
Random Image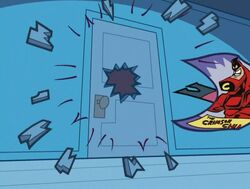 Poll
Which upcoming episode are you more excited for?