Home
Talk

14
6,295pages on
this wiki
What's New

New Episode!


"Man's Worst Friend" premieres Sunday, February 8 at 12pm on Nickelodeon.
| | | | | |
| --- | --- | --- | --- | --- |
| Episodes | Cast & Crew | Songs | Merchandise | Forum |
Featured Article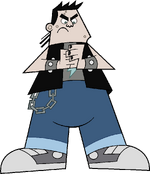 Francis is a bully at Dimmsdale Elementary School who terrorizes Timmy Turner and his friends. Francis is extremely stupid and unfriendly. He tortures Timmy and his friends for fun, ranging from giving them wedgies to outright beating them up with his fists. Thanks to Cosmo and Wanda, though, Francis has received his just desserts from Timmy many times over. Francis is also feared by many other unnamed kids at Timmy's school who considered Timmy their hero when he stood up to Francis using You-Doo Dolls to throw him around the school cafeteria. Chester, A.J., Tootie, and especially Elmer and Sanjay are also his frequent bullying victims. He is considered abnormally large for his age, has absolutely no tan whatsoever, and has very crooked, discolored teeth. He usually wears a black sleeveless vest, over a gray shirt with a lightning bolt on it. He had blue jeans with a wallet chain along the side, and he has spiked collars around his wrists.
See the full article by clicking here.

Recently Featured: Chindred Spirits ♦ Fairly OddPet ♦ FOP Movie ♦ Frenemy Mine ♦ Christmas Everyday! ♦ Kung Timmy ♦ more...
Headlines
Create blog post
Nickelodeon has scheduled lots of new episodes of "The Fairly OddParents" this Summer. There'll be four weeks of new episodes, leading up to the premiere of the all new live-action movie "A Fairly Odd Summer".

Here's a full list of every episode coming this Summer:

- Monday, 7/7 @ 3:00 p.m.
"Cosmonopoly/ H…


Read more >

Nickelodeon is getting in the holiday spirit with its upcoming movie "A Fairly Odd Christmas"', set to premiere Friday, Nov. 29 at 7/6c, TVGuide.com can reveal exclusively.

The movie follows the latest adventures of Timmy Turner (Drake Bell) and his childhood friend Tootie (Daniella Monet), who travel a…

Read more >
See more >
Create blog post
Hello, Odd people!

It's beginning to look a lot like Christmas, so we have changed our Wiki for the occasion. We have new background, colors and special decoration in the home page. Don't forget to ta…

Read more >

Hello, Odd people!

I've recently updated this Wiki's mainpage, and one of the changes was to add a Poll to it. Our first poll had the question "Which of these characters do you wish would appear in the…

Read more >
See more >
"
Timmy, you know you're not supposed to be on those kind of websites!
"
Random Image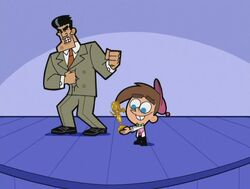 Poll
Which Christmas-themed episode is your favorite?
We are also currently building communities in the following languages: