Home
Talk

14
6,160pages on
this wiki
What's New

A Fairly Odd Summer

is Now Available on DVD


You can own the latest live-action adventure of Timmy and the gang. Exclusively on Amazon.
| | | | | |
| --- | --- | --- | --- | --- |
| Episodes | Cast & Crew | Songs | Merchandise | Forum |
Featured Article
"Birthday Wish!" is the fourth episode of Season 5. One day, Timmy Turner, and his pals Chester and A.J. are enjoying themselves at Mike E. Mozerella's, a party restaurant for kids. Chester enjoys the all-you-can-eat pizza; A.J. thinks the crude robots in the place make feel smart; and Timmy loves the ball pit. However, they overhear Tootie is nearby sitting at an empty table, crying because nobody came to her party except for her older sister Vicky, who is scaring off anyone who does decide to show up. Feeling guilty about using Tootie's party invitations to invite his own friends and ditch her party, Timmy decides the best way he can make it up to her is by loaning her his fairy godparents. Cosmo and Wanda are glad to help Tootie at first, but she is so grateful for their magic she wants to reveal them to all of Dimmsdale, and to make matters worse, Mr. Crocker is onto Timmy's plan, and sets out to pry the secret out of Tootie's lips himself.
See the full article by clicking here.


Recently Featured: Chindred Spirits ♦ Fairly OddPet ♦ FOP Movie ♦ Frenemy Mine ♦ Christmas Everyday! ♦ Kung Timmy ♦ more...
Headlines
Create blog post
Nickelodeon has scheduled lots of new episodes of "The Fairly OddParents" this Summer. There'll be four weeks of new episodes, leading up to the premiere of the all new live-action movie "A Fairly Odd Summer".

Here's a full list of every episode coming this Summer:

- Monday, 7/7 @ 3:00 p.m.
"Cosmonopoly/ H…


Read more >

Nickelodeon is getting in the holiday spirit with its upcoming movie "A Fairly Odd Christmas"', set to premiere Friday, Nov. 29 at 7/6c, TVGuide.com can reveal exclusively.

The movie follows the latest adventures of Timmy Turner (Drake Bell) and his childhood friend Tootie (Daniella Monet), who travel a…

Read more >
See more >
Create blog post
Hello, Odd people!

I've recently updated this Wiki's mainpage, and one of the changes was to add a Poll to it. Our first poll had the question "Which of these characters do you wish would appear in the…

Read more >

Hey
I decided to make some changes to the mainpage, since I realized we use the same design since...well, a long time.

So, I hope you guys like the new style. Give us feedback in the comments below, an…


Read more >
See more >
Random Image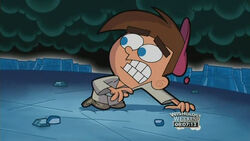 Poll
How much did you enjoy 'A Fairly Odd Summer'?
We are also currently building communities in the following languages: