Lucky Bits is a type of marshmellow cereal that is abundant on Ireland. They were seen in the episode "Crocker of Gold".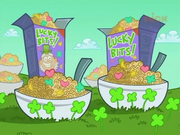 Background
When Big Dave told Lucky and Greeny to take Wanda and Poof hostages while him, Cosmo and Timmy took the pot of gold from Mr. Crocker, they took Wanda & Poof to Ireland. It's a pun of Lucky Charms, another brand of Cereal.
See also
Trivia
Ad blocker interference detected!
Wikia is a free-to-use site that makes money from advertising. We have a modified experience for viewers using ad blockers

Wikia is not accessible if you've made further modifications. Remove the custom ad blocker rule(s) and the page will load as expected.