List of Nudity Throughout the Series
Comments

9
5,334pages on
this wiki
This list contains all the nudity throughout the series.
Crime Wave
- After Wanda says "At least you're naked in your own house." to Timmy.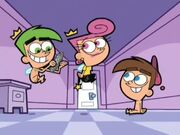 Emotion Commotion
- "So? What's wrong with being naked in public?"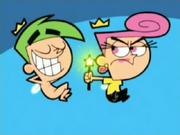 Beach Bummed
- Coppertone suntan lotion parody in the title card, bare butt.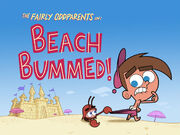 Crime Wave - After his pants were pulled off by Mr. Turner.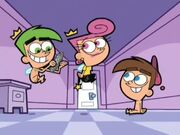 Emotion Commotion- After diving into the pool.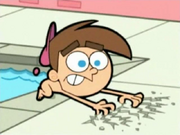 Fairly Odd Baby- He was in the shower, before the Baby Shower took place.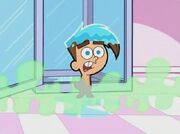 Future Lost - A peek at his buns when he's wedgied at the end of the five-second schoolday.
Mighty Mom and Dyno Dad
- Bare butt when the shark bites the rear end out of his Galactus costume.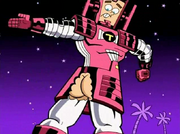 Pipe Down
- He was so angry that he exploded, but seen nude.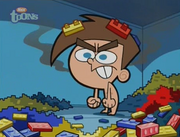 Please Don't Feed The Turners - He was blown up, while he was trying to escape in a tunnel. He appears bald, and with no clothing on.
Presto Change-O - A peek at his buns when he's hanging off the flagpole. (Technically, Crocker in Timmy's body, but still....)
Vicky Loses Her Icky - A peek at his buns when he's wedgied.
Blondas Have More Fun!
- Being naked in a soapy hottub begging for privacy.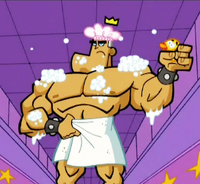 Abra-Catastrophe- Completely naked, save for a towel covering his private region.
Temporary Fairy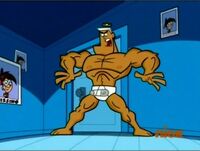 - Timmy wishes for Jorgen to be in a diaper in front of a stadium so he will quit being his fairy.
Action Packed
|
- After gaining a large amount of muscles, Jorgen's clothes rip off, leaving him with nothing but underwear on for the rest of the scenerio.
Super Zero - Running out of the shower with bubbles on him when he heard the word egg-nog.
The Boss Of Me - Mr. Turner is sad about the end of his career working at Pencil Nexus because he can't find an amazing pencil. He rips off his clothes and is shown in a diaper running into the bathroom crying.
Super Zero
- When
Wanda
was changing Poof's diaper.
Fairly Odd Baby
- When he was born and when his diaper was being changed.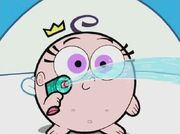 Chicken Poofs
,
Smart Attack
- Being in his soapy bathtub.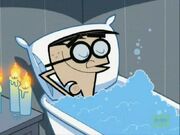 The End of The Universe-ity-Crocker is poofed naked.
The Fairly OddParents! - While taking a bath before Timmy wished that the water would turn into gelatin.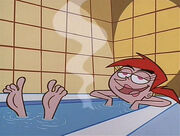 Escape From Unwish Island
- He's nude throughout.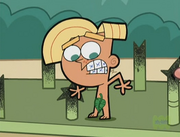 Fairy Idol - A peek at his buns when he's wedgied after he loses everything but his dignity.
No Substitute For Crazy
- A peek at his buns when wedgied.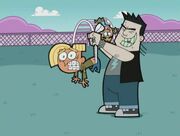 School's Out!: The Musical - He streaks the Grand Canyon.
Shiny Teeth - before Cosmo and Wanda(disguised as dogs) ripped his pants and underwear.