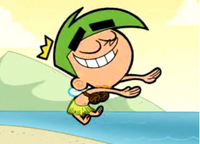 Hula-Hoo is a song sung by Cosmo in the crossover special, The Jimmy-Timmy Power Hour. With Timmy needing a science fair project, Cosmo offers to help by admitting he is great with science, then realizing he means Hula dancing. After Timmy wishes himself to Retroville, Wanda wants to go to Hawaii after seeing Cosmo's dance and Cosmo agrees after comically changing into a lab coat. He also sang it in Momnipresent, in which they get imported coconuts from Hawaii and Timmy was put in a kilt.
Lyrics
Hula belly, Hula Belly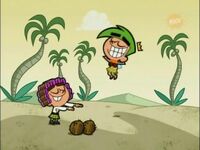 Hula belly, Hula-Hoo
Coconutty, Coconutty
Everybody Hula-Hoo!
Hula belly, Hula belly,
Man in skirty Hula-Hoo.....
See also
Ad blocker interference detected!
Wikia is a free-to-use site that makes money from advertising. We have a modified experience for viewers using ad blockers

Wikia is not accessible if you've made further modifications. Remove the custom ad blocker rule(s) and the page will load as expected.