Trivia
Allusions
Running Gags
AJ and Chester dragging Timmy away from something.
AJ and Chester tackling Veronica because of a "suspicious" item she's holding.
Goofs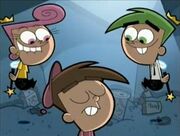 When Timmy, Cosmo, and Wanda are in a trash can at the school cafeteria and Timmy says, "someone with vision, someone with ideals, someone with..." Cosmo briefly has Timmy's buck teeth.