Food Fight/References
Comments

0
5,752pages on
this wiki
Trivia
Allusions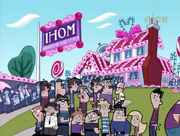 The title is a play on the same name phrase.
Hal Apeño is a play on the Mexican pepper Jalapeño, and Sue Shi's name is a play on the word Sushi, a Japanese dish. Crepe Suzette's name is a parody on a Crêpes Suzette. The host of Extreme Food Fight's name Bradwurst is a play on the food Bratwurst.
The International House of Mom is a reference to the restaurant International House of Pancakes.
[[Extreme Food Fight]] is a parody of competitive cooking shows such as Chopped.
Mr. Turner saying he is the alpha meatloaf references how on some animal groups the leader is the "alpha" one.
Mrs. Turner's normally made food resembles Grandma Stuffum's food soldiers.
Timmy is seen on the title card fighting a roasted chicken, his uppercut is a parody of the Shoryuken from the Street Fighter video game series.
The part where the casserole grabs on to Timmy's face and his Dad says that he'll get it off before it lays eggs in his brain is a reference to the Alien films (whereas the titular alien lay eggs on a person's chest).
Goofs
You can easily see the Mexican flag doesn't have a seal on it and it looks more like the flag of Italy.
When Poof is a timer, his lashes are missing,
Running Gag
Someone frolicking across the sausage field, and saying "I feel so greasy!".
Mrs. Turner being doused with water by the firemen.
The meatloaf going after Mr. Turner/Timmy.
Cosmo panicking and eating some parts from a house.