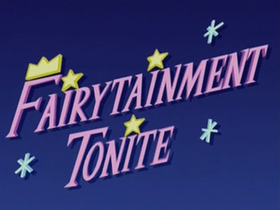 Fairytaintment Tonite is a talk show in Fairy World hosted by Fairy Hart and Bob Glimmer; two fairy media personalities. Actress Blonda appeared in one episode to talk about that she has never won a Zappy. Fairy Hart, Bob Glimmer, and everyone else in Fairywood have thousands of them.
Trivia
This TV show is a parody of Entertainment Tonight.
Ad blocker interference detected!
Wikia is a free-to-use site that makes money from advertising. We have a modified experience for viewers using ad blockers

Wikia is not accessible if you've made further modifications. Remove the custom ad blocker rule(s) and the page will load as expected.