Fairly Odd Parents Wiki:News
Talk

1
Ad blocker interference detected!
Wikia is a free-to-use site that makes money from advertising. We have a modified experience for viewers using ad blockers

Wikia is not accessible if you've made further modifications. Remove the custom ad blocker rule(s) and the page will load as expected.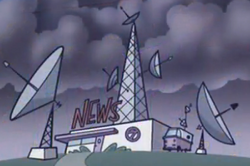 Unaired episodes
These episodes have not yet aired in the United States.
Recently aired episodes
Site news
January 8, 2016
Season 10 starts January 15.
May 1st, 2014
A new episode was scheduled for May 26.
May 31, 2013
New episodes will air every saturdays of June at 9:30am.
April 25, 2013
The regular run of Season 9 kicks off on May 4th, with the episode "Turner & Pooch". New episodes will now air on Saturdays at 9:30am.
March 24, 2013
Season 9 officially started yesterday with "Fairly OddPet". New episodes coming soon will involve Crocker kidnapping Sparky and Cosmo granting wishes for Mr. Turner.
November 9, 2012
A Fairly Odd Christmas will air on November 29, 2012. Don't miss it.
March 14, 2012
Fairly OddParents Season 9 has been officially announced by Frederator Studios. It will begin sometime in 2013.
June 30, 2011
TVGuide is reporting that eight "new" episodes will be aired the week after the FOP movie. These are most of the Season 7 episodes that have yet to be aired in the US (but are available on DVD). Note that this is still subject to change.
June 9, 2011
A new half hour episode will air on June 18th called "Invasion of the Dads", a sequel of sorts to the episode "Add-a-Dad". The premiere date for the live action movie is now officially July 9th.
Janurary 27, 2011
Two new episodes Spellementary School and Operation: Dinkleberg will air on Feburary 26, 2011.
Janurary 24, 2011
A new episode called Love Triangle will air on Feburary 12, 2011, 2 days before Valentines Day.
September 17, 2010
Tomorrow (Sept. 18), two new episodes will be aired in the US: Manic Mom-Day, and Crocker of Gold. Please note that these episodes are now slated to premiere at 11:00 AM Eastern.
August 20, 2010
New episodes of the Fairly OddParents are coming to America! Be sure to catch "Double-Oh Schnozmo!" and "The Boss of Me" this Septemember 11 at 11:00AM on Nickelodeon!
July 24, 2010
A Fairly Odd Movie: Grow Up, Timmy Turner!, a live action Fairly OddParents television movie, will be coming to Nickelodeon in 2011!
There is also a new animated special coming soon to the Fairly OddParents called "Love Triangle", which will be a half hour long full episode.
June 17, 2010
The Fairly OddParents will be returning on Nickelodeon on weekdays at 1:00 PM.
June 6, 2010
More information on The Fairly OddParents Live Action Movie has been released.
March 25, 2010
A new Fairly OddParents premiere week is coming the first week of April, from April 5th to 9th, including a possible reappearance of Foop! --Lord Beckett (talk) 04:21, March 25, 2010 (UTC)
January 23, 2010
Two new episodes have been scheluded to premiere on February 6, at 11:30 A.M.! --Lord Beckett (talk) 00:35, January 24, 2010 (UTC)
December 14, 2009
Fairly OddParents Season 8 has been officially announced by Frederator Studios. No other details are known at this time. There are also around eighteen unaired episodes of Season 7. The Fairly OddParents is approaching its 10th anniversary (not counting Oh Yeah! Cartoons). It has also been announced that the final episode of Season 7 will be a special involving Foop. 07:51, December 14, 2009 (UTC)
October 29, 2009
We now have a dedicated news section! This area will give up to date information on the show, changes to the site, featured articles, and more. --Lord Beckett (talk) 19:03, October 30, 2009 (UTC)