Home
Talk

14
6,159pages on
this wiki
| | | | | |
| --- | --- | --- | --- | --- |
| Episodes | Cast & Crew | Songs | Merchandise | Forum |
Featured Article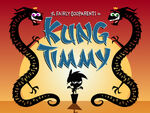 Kung Timmy is the twenty-second episode of Season 3. Francis is beating up Timmy Turner in front of the entire school, when Tootie shows up to defend him. This only humiliates Timmy further when Francis points out that he needs a little girl to fight his battles for him. It only gets worse when neither Tootie nor Timmy's own father can stop Francis, and soon the Turners are bullied out of their car, possessions, and even their home. Timmy's Dad attempts to help him learn Kung-Fu, but the book of Kung-Fu laws states it can only be used for defense, and prevents Timmy from using it to get revenge on Francis, even with the help of his fairy godparents. Only when Francis threatens to beat up Tootie instead does Timmy stand a fighting chance against Francis, by using the laws of Kung-Fu to defend the only person who believed in him, beat up Francis, and earn his family's home back.
See the full article by clicking here.


Recently Featured: Chindred Spirits ♦ Fairly OddPet ♦ FOP Movie ♦ Frenemy Mine ♦ Christmas Everyday! ♦ Kung Timmy ♦ more...
Headlines
Create blog post
Nickelodeon has scheduled lots of new episodes of "The Fairly OddParents" this Summer. There'll be four weeks of new episodes, leading up to the premiere of the all new live-action movie "A Fairly Odd Summer".

Here's a full list of every episode coming this Summer:

- Monday, 7/7 @ 3:00 p.m.
"Cosmonopoly/ H…


Read more >

Nickelodeon is getting in the holiday spirit with its upcoming movie "A Fairly Odd Christmas"', set to premiere Friday, Nov. 29 at 7/6c, TVGuide.com can reveal exclusively.

The movie follows the latest adventures of Timmy Turner (Drake Bell) and his childhood friend Tootie (Daniella Monet), who travel a…

Read more >
See more >
Create blog post
Hello, Odd people!

I've recently updated this Wiki's mainpage, and one of the changes was to add a Poll to it. Our first poll had the question "Which of these characters do you wish would appear in the…

Read more >

Hey
I decided to make some changes to the mainpage, since I realized we use the same design since...well, a long time.

So, I hope you guys like the new style. Give us feedback in the comments below, an…


Read more >
See more >
"
Good evening, everyone. We're your perfectly normal not-magic-fairy human waiters with unbelievably super-hairy legs and underarms!
"
Random Image
Poll
How much did you enjoy 'A Fairly Odd Summer'?
We are also currently building communities in the following languages: