Home
Talk

14
5,588pages on
this wiki

"
Ooh, yeah - I'm gonna swing, Daddy-o! I'm gonna call up all my old friends! [
leafing through book
] Lessee, Wanda, Wanda, Wanda with a star beside it, Panda, no that's "Wanda" with a smudge on the 'W'. I...I...
I miss Wanda!'
"
Featured Article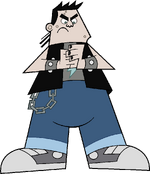 Francis is a bully at Dimmsdale Elementary School who terrorizes Timmy Turner and his friends. Francis is extremely stupid and unfriendly. He tortures Timmy and his friends for fun, ranging from giving them wedgies to outright beating them up with his fists. Thanks to Cosmo and Wanda, though, Francis has received his just desserts from Timmy many times over. Francis is also feared by many other unnamed kids at Timmy's school who considered Timmy their hero when he stood up to Francis using You-Doo Dolls to throw him around the school cafeteria. Chester, A.J., Tootie, and especially Elmer and Sanjay are also his frequent bullying victims. He is considered abnormally large for his age, has absolutely no tan whatsoever, and has very crooked, discolored teeth. He usually wears a black sleeveless vest, over a gray shirt with a lightning bolt on it. He had blue jeans with a wallet chain along the side, and he has spiked collars around his wrists.
See the full article by clicking here.

Recently Featured: Chindred Spirits ♦ Fairly OddPet ♦ FOP Movie ♦ Frenemy Mine ♦ Christmas Everyday! ♦ Kung Timmy ♦ more...
Song of the Month
Gimme the Wand
Gimme the Wand is a musical number sung by Norm the Genie and Cosmo in the episode Fairy Idol.

Lyrics
Norm the Genie:
I'm a swinging G-E-N-I-E
Huh? Hey
Let me tell you
what that spells to me
When I'm shoved in a lamp,
It's cold and damp, man!
My wishing power stops at 3
And that's pretty dang annoying to me

I want that crazy power you fairies got
To grant those wishes that you grant a lot
Hey!
To give each and every child a great big smile
To me this means a lot, it ain't no evil plot

[Chorus]

Gimme the wand, and you'll all see
Gimme the wand, your fairy, I'd be
Gimme the wand, a-da-do-da-dee
I'll make you a natural blonde,
if you give me the wand
(Shoo-doop-shoo-be-do-wah)

(snake charmer music playing)

Cosmo:
I'm a... oh hang on,
F-A-I-R-Y
We did our very best
for this buck toothed guy
(Shoop-bah-doo-bap-Dooby-doo-wah!)
That vest-wearing slob
He may want our job

Norm:
Well, duh.

Cosmo:
But give us
One more try
You really can't deny

Cosmo and Norm:
Give us the wand, we'll have a ball
(Doot-doot-bap-dooby-doo-zow!)

Norm:
Give me the wand

Wanda:
He'll enslave you all!
(Doot-doot-bap-dooby-doo-zow!)

Cosmo and Norm:
Give us the wand, a-do-doo-dow
(Doot-doot-bap-dooby-doo-zow!)
We really hope, you all respond
Come on, give us the wand
And set me free
(Doot-doot-bap-dooby-doo-zow)
Give us the wand, and hear our plea
(Doot-doot-bap-dooby-doo-zow)
Give us the wand, a-doo-dah-dee
(Doot-doot-bap-dooby-doo-zow)
Don't let yourself be conned

Now give us the wand.
---
Recently Featured: A Million Wishes ♫ Lookin' Like Magic ♫ I Wish It Could Be Christmas Every Day ♫ Floating With You ♫ Icky Vicky
Random Image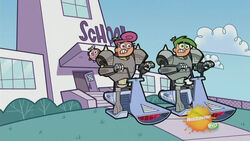 Next Episode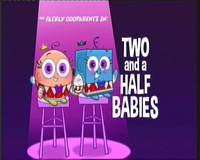 Foop and Poof must take care of an egg for a school project.
This episode will air in:
To Be Announced
Headlines
Loading RSS data...
( Refresh | More news... )

Create blog post
Nickelodeon is getting in the holiday spirit with its upcoming movie "A Fairly Odd Christmas"', set to premiere Friday, Nov. 29 at 7/6c, TVGuide.com can reveal exclusively.

The movie follows the latest adventures of Timmy Turner (Drake Bell) and his childhood friend Tootie (Daniella Monet), who travel a…

Read more >

The final unaired Season 7 episode Farm Pit will be premiering August 5, 2012 at 10:00 AM (Eastern) on Nickelodeon USA!




The episode involes when Mr. Turner has been fired from his job, so he tries to start up a farm instead. Unfortunately, he has no luck at growing anything, so Timmy wishes his father's…


Read more >
See more >
Create blog post
If you enjoy editing on the Wiki but doesn't have an account, please register !

Starting Jul 1st, Wikia will be turning anonymous editing off for wikis directed to people 12 years of age or younger, an…

Read more >

Hey Fairly Odd people!
Wikia is organizing a competition called Time to Play. It's a way Wikia found to honor and promote the best article of which Wiki. You can learn more about "Time to Play", here.
…



Read more >
See more >
We are also currently building communities in the following languages: