Home
Talk

14
6,078pages on
this wiki
What's New

A Fairly Odd Summer


The gang heads to Hawaii for vacation, but Timmy ends up putting the whole Fairy World in danger. Now, he must defeat Crocker and Foop in a magical adventure that may change his future forever. The newest "Fairly Odd" movie has just premiered. Click in the title to know more.
| | | | | |
| --- | --- | --- | --- | --- |
| Episodes | Cast & Crew | Songs | Merchandise | Forum |
Featured Article
Jorgen Von Strangle is the strongest fairy that exists in Fairy World and is the boss of all fairies. His wife is The Tooth Fairy. He is the only wing-less fairy. His animal disguse is a rhinoceros. Jorgen is the commander of the Fairy Godparents and possibly all of Fairy World, although the extent of how powerful or how much he commands is not exactly clear. When Jorgen was first introduced, he was more of an enemy of Timmy Turner, and in a few cases tried to get Timmy's godparents taken away. As the show went on, Jorgen seemed to warm up to Timmy, and he has become more of an anti-hero than a villain, likely because Timmy has saved him and the fairies so many times. In one case, Jorgen served as a "temporary fairy" for Timmy, and proved to be even more destructive than Cosmo. Jorgen also had a godson named Winston in the earlier Oh Yeah! Cartoons shorts, although this did not carry on into the main series. A recent episode also reveals that Jorgen and Cosmo are distant cousins, according to Jorgen's grandmother, Nana Boom Boom.
See the full article by clicking here.

Recently Featured: Chindred Spirits ♦ Fairly OddPet ♦ FOP Movie ♦ Frenemy Mine ♦ Christmas Everyday! ♦ Kung Timmy ♦ more...
Headlines
Create blog post
Nickelodeon has scheduled lots of new episodes of "The Fairly OddParents" this Summer. There'll be four weeks of new episodes, leading up to the premiere of the all new live-action movie "A Fairly Odd Summer".

Here's a full list of every episode coming this Summer:

- Monday, 7/7 @ 3:00 p.m.
"Cosmonopoly/ H…


Read more >

Nickelodeon is getting in the holiday spirit with its upcoming movie "A Fairly Odd Christmas"', set to premiere Friday, Nov. 29 at 7/6c, TVGuide.com can reveal exclusively.

The movie follows the latest adventures of Timmy Turner (Drake Bell) and his childhood friend Tootie (Daniella Monet), who travel a…

Read more >
See more >
Create blog post
Hello, Odd people!

I've recently updated this Wiki's mainpage, and one of the changes was to add a Poll to it. Our first poll had the question "Which of these characters do you wish would appear in the…

Read more >

Hey
I decided to make some changes to the mainpage, since I realized we use the same design since...well, a long time.

So, I hope you guys like the new style. Give us feedback in the comments below, an…


Read more >
See more >
"
You're here? In my house? My Timmy-tracker must be malfunctioning.
"
Random Image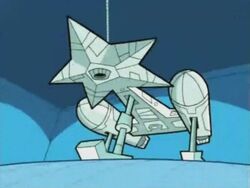 Poll
How much did you enjoy 'A Fairly Odd Summer'?
We are also currently building communities in the following languages: