Home
Talk

14
6,268pages on
this wiki
| | | | | |
| --- | --- | --- | --- | --- |
| Episodes | Cast & Crew | Songs | Merchandise | Forum |
Featured Article
"The Big Superhero Wish!" is the twelfth episode of Season 4. Angry at the fact that normal citizens could have saved him from harm several times, Timmy Turner wishes for the world to be like a Crimson Chin comic book, with everyone becoming superheroes. Unfortunately for Timmy, this turns his daily villains, Vicky, Mr. Crocker, and Francis, into supervillains, and Timmy must team up with his new super-powered classmates to stop them. Unbeknown to Timmy however, the Nega Chin is onto his fairies and wants to capture the "reality-bending super dogs". With the help of Timmy's enemies turned supervillains, Nega Chin tricks Timmy into wishing only the superheroes' powers away, leaving the Nega Chin free reign over the powerless Chin and comic book Dimmsdale. Only with the help of the ordinary citizens that had failed him earlier can Timmy hope to overcome his superpowered adversaries.
See the full article by clicking here.

Recently Featured: Chindred Spirits ♦ Fairly OddPet ♦ FOP Movie ♦ Frenemy Mine ♦ Christmas Everyday! ♦ Kung Timmy ♦ more...
Headlines
Create blog post
Nickelodeon has scheduled lots of new episodes of "The Fairly OddParents" this Summer. There'll be four weeks of new episodes, leading up to the premiere of the all new live-action movie "A Fairly Odd Summer".

Here's a full list of every episode coming this Summer:

- Monday, 7/7 @ 3:00 p.m.
"Cosmonopoly/ H…


Read more >

Nickelodeon is getting in the holiday spirit with its upcoming movie "A Fairly Odd Christmas"', set to premiere Friday, Nov. 29 at 7/6c, TVGuide.com can reveal exclusively.

The movie follows the latest adventures of Timmy Turner (Drake Bell) and his childhood friend Tootie (Daniella Monet), who travel a…

Read more >
See more >
Create blog post
Hello, Odd people!

It's beginning to look a lot like Christmas, so we have changed our Wiki for the occasion. We have new background, colors and special decoration in the home page. Don't forget to ta…

Read more >

Hello, Odd people!

I've recently updated this Wiki's mainpage, and one of the changes was to add a Poll to it. Our first poll had the question "Which of these characters do you wish would appear in the…

Read more >
See more >
"
If Chip doesn't show up, I'm going to punish our son for no reason!
"
Random Image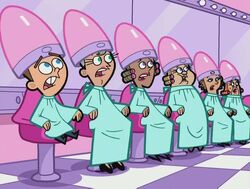 Poll
Which Christmas-themed episode is your favorite?
We are also currently building communities in the following languages: