| | | | | |
| --- | --- | --- | --- | --- |
| Episodes | Cast & Crew | Songs | Merchandise | Forum |
Featured Article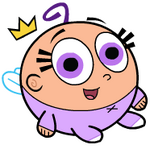 Poof is the baby born to Cosmo and Wanda. He first appeared in "Fairly Odd Baby". When Timmy Turner wished that Cosmo and Wanda had a baby, Cosmo instantly became pregnant. When Poof was born, the Anti-Fairies and Pixies tried to steal the baby, as a baby fairy's magic is uncontrollable. Timmy desperately takes Poof in an attempt to flee, but finds that when Poof laughs, good things happen, when it cries, bad things happen, when it burps, lightning strikes the one nearest, when it hiccups, natural disasters happen, and when it breaks wind, reality itself goes out of control, which also happens to make great transportation. Eventually, they used Poof's powers against the Anti-fairies and Pixies. When they returned home, Wanda wanted to find out the gender of Poof, so changing his diaper is the best way to find out. After using a water-gun, he is proven a boy, because "Boys love Water Squirters."
See the full article by clicking here.


Recently Featured: Chindred Spirits ♦ Fairly OddPet ♦ FOP Movie ♦ Frenemy Mine ♦ Christmas Everyday! ♦ Kung Timmy ♦ more...
Headlines
Create blog post
Nickelodeon has scheduled new episodes for the new season of "The Fairly OddParents" this winter.

Here's a full list of every episode coming this winter:

-Friday 1/15 @ 7:30 p.m. "The Big Fairy Share Scare" Due to a loophole in the rules, Timmy must now share his fairies with a little girl named Chloe …

Read more >

Nickelodeon has scheduled lots of new episodes of "The Fairly OddParents" this Summer. There'll be four weeks of new episodes, leading up to the premiere of the all new live-action movie "A Fairly Odd Summer".

Here's a full list of every episode coming this Summer:

- Monday, 7/7 @ 3:00 p.m.
"Cosmonopoly/ H…


Read more >
See more >
Create blog post
Hello, Odd people!

It's beginning to look a lot like Christmas, so we have changed our Wiki for the occasion. We have new background, colors and special decoration in the home page. Don't forget to ta…

Read more >

Hello, Odd people!

I've recently updated this Wiki's mainpage, and one of the changes was to add a Poll to it. Our first poll had the question "Which of these characters do you wish would appear in the…

Read more >
See more >
"
But that's
my
hand, pal, and guess what, I don't need magic to turn it into a fist!
"
Random Image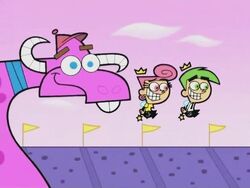 Poll
What do you think about the addition of Chloe in Season 10 ?
We are also currently building communities in the following languages: