Home
Talk

14
6,158pages on
this wiki
What's New

A Fairly Odd Summer

is Now Available on DVD


You can own the latest live-action adventure of Timmy and the gang. Exclusively on Amazon.
| | | | | |
| --- | --- | --- | --- | --- |
| Episodes | Cast & Crew | Songs | Merchandise | Forum |
Featured Article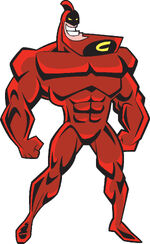 The Crimson Chin is a comic book hero who resides in the city of Chincinnati, protecting his fictional universe from a variety of different metal or body-part themed villains. The Chin is voiced by Jay Leno of late night comedy fame, who is known for having a large chin in real life. The Chin, as he is sometimes called, is Timmy Turner's favorite superhero. The Crimson Chin has an incredibly big chin (hence his name) and a red outfit. Along with Crash Nebula, the Crimson Chin is very famous throughout Dimmsdale. The Crimson Chin comics were supposedly created by a "forty year old guy that lives with his mom" who was played in live action by Patton Oswald. The Crimson Chin wears typical uni-colored (in this case, crimson red) spandex outfit, is extremely muscular and has a massive, exaggerated chin made to parody uncreative comic book hero designs from the 1960s. The Crimson Chin speaks metaphors in most occasions, he does this heavily when the world was turned into a comic world, and ended up running out of metaphors by the end of the episode.
See the full article by clicking here.

Recently Featured: Chindred Spirits ♦ Fairly OddPet ♦ FOP Movie ♦ Frenemy Mine ♦ Christmas Everyday! ♦ Kung Timmy ♦ more...
Headlines
Create blog post
Nickelodeon has scheduled lots of new episodes of "The Fairly OddParents" this Summer. There'll be four weeks of new episodes, leading up to the premiere of the all new live-action movie "A Fairly Odd Summer".

Here's a full list of every episode coming this Summer:

- Monday, 7/7 @ 3:00 p.m.
"Cosmonopoly/ H…


Read more >

Nickelodeon is getting in the holiday spirit with its upcoming movie "A Fairly Odd Christmas"', set to premiere Friday, Nov. 29 at 7/6c, TVGuide.com can reveal exclusively.

The movie follows the latest adventures of Timmy Turner (Drake Bell) and his childhood friend Tootie (Daniella Monet), who travel a…

Read more >
See more >
Create blog post
Hello, Odd people!

I've recently updated this Wiki's mainpage, and one of the changes was to add a Poll to it. Our first poll had the question "Which of these characters do you wish would appear in the…

Read more >

Hey
I decided to make some changes to the mainpage, since I realized we use the same design since...well, a long time.

So, I hope you guys like the new style. Give us feedback in the comments below, an…


Read more >
See more >
"
I told you, You Doo Dolls are dangerous. [
goes under You-Doo spell
] But what the heck do I know? In fact, poof up a whole big box full of You-Doo dolls! And let's wish up more pudding for Cosmo! I'm a nag! Let's do the Nag Dance! [
singing
] You nag it to the left, You nag it to the right, I love to nag my husband all day and night!
"
Random Image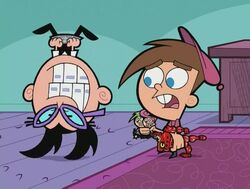 Poll
How much did you enjoy 'A Fairly Odd Summer'?
We are also currently building communities in the following languages: