Home
Talk

14
6,191pages on
this wiki
| | | | | |
| --- | --- | --- | --- | --- |
| Episodes | Cast & Crew | Songs | Merchandise | Forum |
Featured Article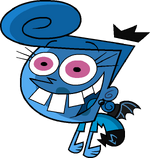 Anti-Wanda is the Anti-Fairy counterpart of Wanda Fairywinkle. Completely brainless and is unaware of things, she is Anti-Cosmo's wife. Because all Anti-Fairies are the opposite of their fairy counterpart- instead of being kind and sweet like Wanda, Anti-Wanda is dim-witted and mean, although you can barely tell she's mean because she is so stupid. Anti-Wanda's IQ is so low that she doesn't know how to eat properly, and as such she eats with her feet, and much like Cosmo, she foils plans without knowing what's going on. She has a few missing teeth and speaks in a southern accent. Even though she is supposed to be like Cosmo, she is a slight bit dumber. Anti-Wanda resembles Wanda, but her color scheme is dark blue and black. She has bat wings and a black crown like all Anti-Fairies. She has pink eyes like Wanda, although she is missing teeth and the rest of her teeth are crooked. She also does not wear any shoes because she uses her feet to eat sandwiches.
See the full article by clicking here.

Recently Featured: Chindred Spirits ♦ Fairly OddPet ♦ FOP Movie ♦ Frenemy Mine ♦ Christmas Everyday! ♦ Kung Timmy ♦ more...
Headlines
Create blog post
Nickelodeon has scheduled lots of new episodes of "The Fairly OddParents" this Summer. There'll be four weeks of new episodes, leading up to the premiere of the all new live-action movie "A Fairly Odd Summer".

Here's a full list of every episode coming this Summer:

- Monday, 7/7 @ 3:00 p.m.
"Cosmonopoly/ H…


Read more >

Nickelodeon is getting in the holiday spirit with its upcoming movie "A Fairly Odd Christmas"', set to premiere Friday, Nov. 29 at 7/6c, TVGuide.com can reveal exclusively.

The movie follows the latest adventures of Timmy Turner (Drake Bell) and his childhood friend Tootie (Daniella Monet), who travel a…

Read more >
See more >
Create blog post
Hello, Odd people!

It's beginning to look a lot like Christmas, so we have changed our Wiki for the occasion. We have new background, colors and special decoration in the home page. Don't forget to ta…

Read more >

Hello, Odd people!

I've recently updated this Wiki's mainpage, and one of the changes was to add a Poll to it. Our first poll had the question "Which of these characters do you wish would appear in the…

Read more >
See more >
Random Image
Poll
Which Christmas-themed episode is your favorite?
We are also currently building communities in the following languages: