| | | | | |
| --- | --- | --- | --- | --- |
| Episodes | Cast & Crew | Songs | Merchandise | Forum |
Featured Article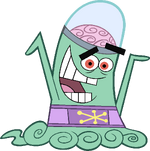 Mark Chang is the Prince of Yugopotamia and a close friend of Timmy Turner. After his planned marriage to the homicidal alien Princess Mandie drove him from his homeworld, Mark Chang became a resident of Dimmsdale. In order to blend in with the human populace, Mark Chang uses a special device called a Fake-i-fier which allows him to take on the form of a human boy, or sometimes monsters and objects when the device malfunctions. Like all Yugopotamians, Mark Chang hates things that humans love such as candy, hugs, and kisses, and loves garbage, manure, and considers Vicky the Babysitter's evil attitude appealing. Vicky has seen Mark in his alien form before, but she thinks he is a foreign exchange student from Europe who is wearing a costume for a comic convention. Recently, Mark returned to his planet and married Mandie, but it turned out to be a ruse and she merely wanted power over his planet. After Mandie was defeated, Mark decided to remain on Earth, his spaceship poorly (yet effectively) hidden in the Dimmsdale Junkyard.
See the full article by clicking here.


Recently Featured: Chindred Spirits ♦ Fairly OddPet ♦ FOP Movie ♦ Frenemy Mine ♦ Christmas Everyday! ♦ Kung Timmy ♦ more...
Headlines
Create blog post
Nickelodeon has scheduled lots of new episodes of "The Fairly OddParents" this Summer. There'll be four weeks of new episodes, leading up to the premiere of the all new live-action movie "A Fairly Odd Summer".

Here's a full list of every episode coming this Summer:

- Monday, 7/7 @ 3:00 p.m.
"Cosmonopoly/ H…


Read more >

Nickelodeon is getting in the holiday spirit with its upcoming movie "A Fairly Odd Christmas"', set to premiere Friday, Nov. 29 at 7/6c, TVGuide.com can reveal exclusively.

The movie follows the latest adventures of Timmy Turner (Drake Bell) and his childhood friend Tootie (Daniella Monet), who travel a…

Read more >
See more >
Create blog post
Hello, Odd people!

It's beginning to look a lot like Christmas, so we have changed our Wiki for the occasion. We have new background, colors and special decoration in the home page. Don't forget to ta…

Read more >

Hello, Odd people!

I've recently updated this Wiki's mainpage, and one of the changes was to add a Poll to it. Our first poll had the question "Which of these characters do you wish would appear in the…

Read more >
See more >
"
Crazy? If gettin' out of school early on my birthday and having more time to be a kid is crazy, well then people, strap me in a straightjacket!
"
Random Image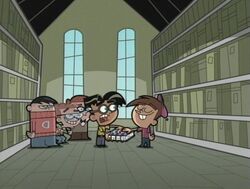 Poll
Which Christmas-themed episode is your favorite?
We are also currently building communities in the following languages: