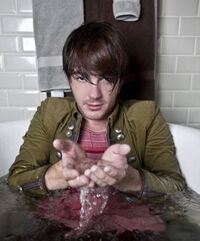 Jared Drake Bell (born June 27, 1986), better known as Drake Bell, is an American actor, comedian, guitarist, singer/songwriter, producer, and occasional television director. He is well known for his role in Drake and Josh as Drake Parker.
Drake Bell portrays Timmy Turner at age twenty-three in The Fairly OddParents live-action television adaption, A Fairly Odd Movie: Grow Up, Timmy Turner!. He and Daniella Monet will also sing a brand new song for the movie, "Lookin' Like Magic".
Personal life
Bell was born and raised in Orange County, California, the son of Robin Dodson, a professional pool player, and Joe Bell. His cousin is San Diego Padres closer Heath Bell.
Filmography
Film
Year
Film
Role
Notes
1996
Jerry Maguire
Jesse Remo
1999
The Jack Bull
Cage Redding
2000
High Fidelity
Young Rob Gordon
Perfect Game
Bobby Jr.
2005
Yours, Mine and Ours
Dylan North
2008
Superhero Movie
Rick Riker
College
Kevin
Unstable Fables: Tortoise vs. Hare
Butch Hare
Voice role
The Nutty Professor
Harold Kelp
Voice role
Direct-to-DVD release
2011
A Fairly Odd Movie: Grow Up, Timmy Turner!
Timmy Turner (Adult)
TV-Movie
2012
A Fairly Odd Christmas
Timmy Turner (Adult)
TV-Movie
Television
Year
Title
Role
Notes
1994
Home Improvement
Little Pete
Episode: Swing Time
1995
Minor Adjustments
Jordan
Episode: The Ex Files
1996
ABC Afterschool Special
Scott
Episode: Me and My Hormones
1997
Gun
Brendan
Episode: The Hole
1998
Seinfeld
Kenny
Episode: The Frogger
1999–2002
The Amanda Show
Drake
2002
The Nightmare Room
Alex Sanders
Episode: Dear Diary, I'm Dead
2004–2008
Drake & Josh
Drake Parker
Main Role
2006
Drake & Josh Go Hollywood
Drake Parker
TV-Movie
Zoey 101
Himself
Episode: Spring Fling
2007
Drake & Josh: Really Big Shrimp
Drake Parker
TV-Movie
2008
Merry Christmas, Drake & Josh
Drake Parker
TV-Movie
2010
I <3 Vampires
Ian
Episode: I Love Luci
Episode: Four's A Crowd
ICarly
Drake Parker
Episode: iBloop
2011
A Fairly Odd Movie: Grow Up, Timmy Turner!
Timmy Turner
TV-Movie
2012
A Fairly Odd Christmas
Timmy Turner (Adult)
TV-Movie