Cupid's Fairy Dog




Species:
Fairy Dog
Eye color:

     

Purple
Production Information
First Appearance:
 
Wishology!
Cupid's Fairy Dog  is the pet dog of Cupid that was seen in a video game in Wishology!.
Information
He is only seen once in a video game where Cupid is taking him for a walk. The Eliminators pop out of nowhere, causing Timmy to come out and fight them. He is able to float, and can be seen doing so in his appearance.
Description
Like Sparky, he has a large nose, wings and a Crown. His fur is white with purple spots, and he has a dark purple nose, eyes and eyebrows. He also has a dog collar around his neck.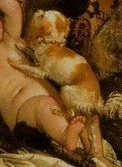 Trivia
He is most likely a reference to a dog that appears in a few paintings with Cupid.
See Also
Ad blocker interference detected!
Wikia is a free-to-use site that makes money from advertising. We have a modified experience for viewers using ad blockers

Wikia is not accessible if you've made further modifications. Remove the custom ad blocker rule(s) and the page will load as expected.