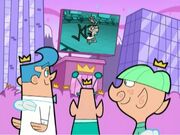 Crocker TV is a television show in Fairy World. The show is about Denzel Crocker showing what he is doing and saying FAIRY GODPARENTS! It took the place of Timmy TV, suggested by Timmy to escape from his duties of his formerly successful show.
Ad blocker interference detected!
Wikia is a free-to-use site that makes money from advertising. We have a modified experience for viewers using ad blockers

Wikia is not accessible if you've made further modifications. Remove the custom ad blocker rule(s) and the page will load as expected.