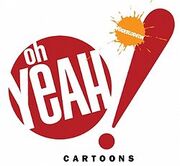 Oh Yeah! Cartoons was an animation showcase made by Frederator Studios. Oh Yeah! Cartoons is responsible for the creation of Fairly OddParents and many other cartoon shorts that would end up becoming part of Nickelodeon's main line up through most of early 2000 such as ChalkZone and My Life as a Teenage Robot.
Media in category "Category:Oh Yeah! Cartoons"



Ad blocker interference detected!
Wikia is a free-to-use site that makes money from advertising. We have a modified experience for viewers using ad blockers

Wikia is not accessible if you've made further modifications. Remove the custom ad blocker rule(s) and the page will load as expected.