Big Wanda/References
Comments

2
5,347pages on
this wiki
Trivia
This episode's title card is a parody of The Godfather.
Innuendos: Cosmo thinks that Wanda was being killed as he saw Franco the Butcher cutting something.
The Mama Cosma and Big Daddy meet for the first time. Ironically while both each hate the person their child married, they are attracted to each other.
Mr. Nay Nay is a parody to the decapitated horse head ALSO from The Godfather.
Apparently Wanda doesn't like milk or sugar in her coffee.
Blonda sounds different in this episode.
This is Poof's first apperance, Poof was in Mr. Neigh-Neigh.
Goofs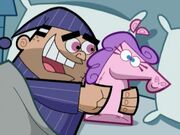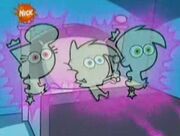 In the bed scenes, Big Daddy's beard have a lighter tone than normal.
At the beginning, when Big Daddy throw away the blanket. But in the next scene, the blanket was there.
At the beginning, Mr, Neigh-Neigh's skin and hair tone are darker. But in the next shot, the tone is normal for the rest of the episode.
When Timmy, Cosmo and Wanda are being transported to Big Daddy' office, for a frame they are colored transparent.
In one shot, Cosmo's eyebrows go behind his fringe.
Cosmo nail a clove on a lamppost which would be impossible in real life.
When Cosmo is nailing the clove, his trouser becomes a skirt.
The pony pillow that appears throughout the episode is Mr. Neigh-Neigh but the characters spelled his name as "Mr. Nay Nay".
When Timmy and Cosmo hear Wanda's uncles, they actually says that they are going to take out Wanda from the Inc. instead of take out Wanda to eat.