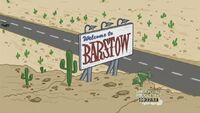 Barstow is a city in San Bernardino County, California. So far the city has made one appearance in Wishology!.
Barstow is located in the High Desert (California). Interstate 15, Interstate 40, and California Highway 58 run through the city. It serves as a resting point to shop and eat before heading to Las Vegas (I-15). Interstate 40 can be used to get to Arizona and beyond, while California Highway 58 serves as direct transportation to the areas Inyokern, Bakersfield, and San Luis Obispo. California Highway 247 provides direct access to Big Bear Lake.
When Timmy Turner was in Barstow, the M.E.R.F. Agents were trying to get and dissect him since they thought Timmy was an alien. The Eliminators were also there and trying to capture Timmy. No other buildings were seen in Barstow, only the 'Welcome to Barstow' sign.
Trivia
Barstow is about 115 miles away from Los Angeles, about 115 miles from Primm and the Nevada border, and around 140 miles from the Las Vegas Strip.
There are a few nearby lakes a few miles out of Barstow.
Ad blocker interference detected!
Wikia is a free-to-use site that makes money from advertising. We have a modified experience for viewers using ad blockers

Wikia is not accessible if you've made further modifications. Remove the custom ad blocker rule(s) and the page will load as expected.