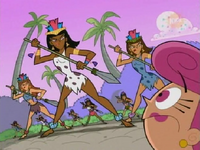 These Amazonian Fairies are Fairies that live in a jungle near the Chicken Temple. Like the legendary Amazonians, they are an all-female tribe that is much larger than a normal fairy.
Information
This is a female race of fairies who live in the fairy jungle. They all seem to love Dr. Rip Studwell. They worship a giant eel in a volcano, and attempted to sacrifice Wanda to their god by launching her into the volcano with a catapult. One of the Amazonian fairies' name was Rita.
Description
They resemble female jungle warriors and are all about the same height as a human, possibly even bigger. Instead of having crowns and wands, they have headdresses and spears.
See also
Ad blocker interference detected!
Wikia is a free-to-use site that makes money from advertising. We have a modified experience for viewers using ad blockers

Wikia is not accessible if you've made further modifications. Remove the custom ad blocker rule(s) and the page will load as expected.