Abracatraz is Fairy World's maximum security prison where the most dangerous prisoners are kept. It is known as Jorgen's prison stronghold. Currently it is where the Anti-Fairy baby, Foop, is being kept, along with all the other Anti Fairies, who are imprisoned too. It is a parody of the real jail, Alcatraz and one of many Fairy World Prisons.
Information
This prison appears to house both Fairy and Anti-Fairy criminals. Jorgen is usually working here, guarding the place and feeding the most dangerous prisoners. Sometimes though, Jorgen can be caught napping quite literally, and the prisoners will easily escape.
Description
Abracatraz resembles a spooky castle and has a sign in front that reads "Abandon All Hope, Ye Who Here Enter". The walls are made of purplish colored bricks, both inside and out. To get to the maximum security cells, one must pass through a number of security doors (and Haitian door beads) before they can get to the area where super dangerous prisoners like Foop are held. Foop's cell has a shatter/magic proof glass instead of bars. Inside the glass, he has drawn scribbles and insults on the walls toward Poof.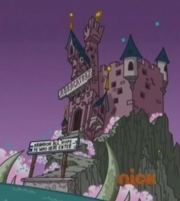 Known Prisoners
Former prisoners
Appearances
Trivia
See Also
Screenshots
Ad blocker interference detected!
Wikia is a free-to-use site that makes money from advertising. We have a modified experience for viewers using ad blockers

Wikia is not accessible if you've made further modifications. Remove the custom ad blocker rule(s) and the page will load as expected.