9 Lives!/References
Comments

2
5,752pages on
this wiki
Trivia
Only appearance of Adam West / Catman in Season 6, and the first series revival. He will appear again in the second series revival.
Catman has 8 lives instead of 9, because earlier in the episode, he got hurt.
This is the second time Cosmo and Wanda are disguised as humans.
Allusions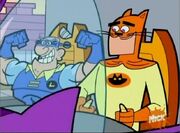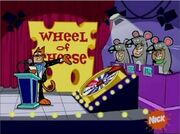 The title is a reference of the phrase 9 lives. 9 Lives means that a cat lands on his paws.
The scene when Catman is catching the mice while the action was punctuated by superimposed onomatopoeic words is a parody of Adam West's Batman.
The Dimmsdale Wildcats are a clear parody of The Wildcats from High School Musical.
The Old Lady's costume at the end is identical to Robin's costume from the Batman franchise.
Ocean World is a parody of Sea World. Along with other things:Shampoo the Orca Whale is a parody of Shambu the Orca Whale and named after one of the characters in Ramna, which is obvious because the characters in Ramna transform when they get splashed with water.
Wheel of Cheese is a parody of Wheel of Fortune.

Also, the players of Wheel of Cheese are dressed as mices similar to Let's Make a Deal where the players dressed up as something.

The part where Catman says "Bill was a computer maker from..", it might be a reference to Bill Gates, founder of the Microsoft computer company.
Running Gags
Something involving churros.
Catman getting fired from a new job that Timmy helps him find.
At the beginning, Catman keeps landing on the Old Lady while she's being robbed, with the robber thanking Catman.
Goofs
When Timmy says Catman lost 8 lives and that he only has 1 life left, Catman is actually hurting himself another time after Timmy says that he has 1 life left. But in the beginning, he actually hurt himself 5 times. However, he could have hurt himself after those 5 times.
When Timmy is watching the game drinking soda and holding Wanda, as a cotton candy, and Poof, as a flag, the woman by his side has no nose.
In one part how didn't Catman see Cosmo, Wanda, or Poof due to the fact that he was right in front of them?